All too soon, it has been about 18 years since former president Olusegun Obasanjo signed the Coastal and Inland Shipping Bill (otherwise called Cabotage) into law. Obasanjo's assent was after both chambers of the National Assembly had painstakingly debated and passed the Bill.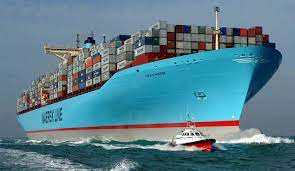 The law makers had subjected the Bill an elaborate public hearing which was attended by stakeholders. Those in attendance included ship owners and agents, shipping practitioners (indigenous and multinational), financial institutions, government agencies, including Cabotage Act's would-be implementing agency, that is, the-then National Maritime Authority (NMA), now NIMASA, and others.
At the conception stage, we recall the then- highly vocal, but now, dead Nigerian Shipping Companies Association telling the law makers that if the almighty United States of America could make a bold statement of indigenising her coastal shipping business through the Jones Act of 1938, why wouldn't Nigeria with a coastline of about 870 kilometres and about 22 ½ billion cubic metres of crude oil deposits, 3 ½ trillion cubic metres of hydro carbon and 42.7 billion cubic metres of bitumen deposits embrace protectionism.
With a lofty objective of deliberately reserving commercial transportation of goods and services within Nigeria's coastal and inland for Nigerian-flag vessels and vessels that are owned by Nigerians, the Cabotage Law of 2003 spelt out four pillars upon which its implementation must rest.
The four pillars are that: Cabotage vessels must be wholly -owned by Nigerians; they must be registered in Nigeria, must be crewed by Nigeria and Nigerian shipyards must build and repair Cabotage vessels.
Between 2004 when the Act came into being and now, there have been about 11 ministers of transport and at least 10 directors' general at the helm of affairs at the NMA and its successor agency; the Nigerian Maritime Administration and Safety Agency (NIMASA).
About 18 years down the line, it is apt to ask the following questions: Why has it been difficult for Cabotage to create (even) marginal employment for the nation's swelling population of seafarers. Why is it that both NIMASA and the supervisory ministry of transportation are more interested in granting waivers to foreign flag vessels to continue trading on our coastal waters in clear circumvention of the provisions of Cabotage? Why is it that 18 years Cabotage came to be, indigenous shipping practitioners are still full of the same lamentations as they were, prior to the enactment of the Act and they still complain that multinationals are dominating the business of shipping in Nigeria? Has Cabotage impacted on Nigeria as a whole?
Can we then ask NIMASA these questions: How many indigenous ship owning companies has it registered since 2004, when actual implementation of Cabotage started and how many foreign? To what extent has the Cabotage Vessel Financing Fund (CVFF) been useful to Nigerian operators and how many have benefited and how much has been given out?
We recall with disgust that sometime in 2017, after series of lamentations by indigenous ship owners, how NIMASA suddenly woke up from its slumber by introducing what it called new 'Cabotage Compliance Strategy', which seeks more opportunity for Nigerians in Cabotage.
Tactically admitting failure, NIMASA had said the new strategy was aimed at actualising a successful coastal and inland trade regime in line with the full implementation of the Cabotage Act, 2003.
According to its then- Director General; Dr Dakuku Peterside, it came up with the new approach so as to secure jobs for qualified Nigerians in the maritime sector.
He said: "The era of foreigners taking over jobs that Nigerians are qualified for in the maritime sector is over. The NCCS will point a new direction to our Cabotage regime, as the Agency will no longer consider application for granting of waiver on manning requirements for vessels engaged in coastal trade with regards to 2nd officer, 2nd engineer, 2nd mate down to able seamen, ratings and stewards."
The question to then ask is: Does is does it then means that for the years that Nigerian has had the Cabotage Act, NIMASA has simply been turning its face the other way as foreigners violate the tenets of the Act.
The persistent cry of Ship Owners Association of Nigeria is a confirmation of the fact that their lots has not improved after about 18 years of Cabotage. How does a nation which has had Cabotage in operation for these number of years still have so many foreign flag ships and foreign owned ships operating in her coastal waters?
The most glaring indices of failure of the Cabotage Act is the depleted bottoms that Nigeria now has, the mass of unemployed seafarers, the prevalence of foreign interests in our coastal shipping, especially as it concerns rendering of services in the oil and gas sector and in line with the Local Content Act.
The truth is that, Cabotage Act died on arrival after it was given to an agency and a people who had no idea of what their mandate as far as Cabotage Act is concerned.
It is simply either because they lack no knowledge of what to do, or they lack the will to do what they ought to do.
Kindly like us on Facebook