For the past 11years, June 25 of every year has come to stay as the world's day of celebrating seafarers. It was actually in 2010 at a Diplomatic Conference which held in Manila in the Philippines to adopt milestone revisions to the International Convention on Standards of Training, Certification and Watchkeeping for Seafarers (STCW Convention) and its associated Code, that it was also agreed that the unique contributions made by seafarers from all over the world to international seaborne trade, the world economy and civil society as a whole, should be marked annually with a 'Day of the Seafarer'.
The objectives of Day of the Seafarer include: increasing awareness among the general public of the indispensable services you render to international seaborne trade, the world economy and society at large. It's also meant as a day to send a clear message to all seafarers that they are recognised and appreciated; that the world understands the extraordinary conditions and circumstances of seafaring, that the world cares about them and that they will be protected whenever the circumstances of life at sea so warrant.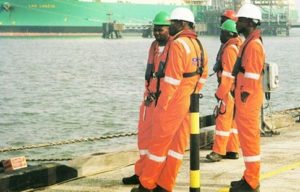 The World Seafarers' Day is also set aside as a day to redouble efforts at the regulatory level to create a better, safer and more secure world for the professionals.
Every year, Nigeria also joins the rest of the global community to celebrate seafarers and remember their sacrifices and contributions to global economy and well-being.
We say that, irrespective of their current rating within the nation's maritime sector, Nigerian seafarers are arguably an important stakeholder. One can hardly forget how respectable it was to be a seafarer up till the mid- 1990s, that was before the liquidation of the Nigerian National Shipping Line (NNSL).
The average age of the youngest qualified and certified master mariner and marine engineer in the country today is about 59 years. Of course, there are thousands of lower cadre seafarers, few of whom are gainfully employed.
There are about 1.2 million seafarers in the world, and good enough, Nigerian seafarers make up a sizeable number of the lot.
From available statistics, more than 5,000 Cadets have graduated from the Maritime Academy of Nigeria (MAN), in Oron, Akwa Ibom state. Apart from MAN Oron, there are thousands of cadets who have also graduated from institutions such as the College of Fisheries and Marine Technology in Lagos. All these cadets contribute to the large pool of unemployed and unemployable graduates of nautical academies that Nigeria now parades.
Sadly, year-in-year-out, Nigerian seafarers are reminded of how much things have degenerated for them. From the hay days when it was not only a thing of pride to be sailor, but also an economically rewarding profession, and to the present when seafaring and seafarers now get the rough end of the stick.
The reality is that Nigeria is a country where thousands of seafarers are either unemployed or under-employed, where the ship registry is depleting by the day.
A lot of people have blamed the current travails of unemployment of the Nigerian seafarers on government and by extension, NIMASA, which is the implementing agency for maritime labour.
Without mincing words, NIMASA has not done well enough to boost the employability of emerging seafarers, this it would have done by ensuring that the Maritime Academy of Nigeria in Oron, Akwa Ibom state is well-funded. A robust programme of sea time for graduating seafarers would have helped too.
The call for a robust programme of sea time is without prejudice to the National Seafarers Development Programme (NSDP) of the NIMASA. The programme is devoted to overseas training for the cadets, without commensurate opportunity for employment.
But rather than do this, it funded maritime institutes in universities and also sends young Nigerians to foreign maritime academies for training in nautical sciences, marine engineering and other courses.
There aren't enough job opportunities because the nation's ship registry is nothing to write home about and there are only few Nigerian flag vessels.
Even though NIMASA will beat its chest for the Nigerian Maritime University and the Science and Technical College that it is funding, the question to ask is: Will it translate to jobs for would-be seafarers.
The Nigerian seafarer is perhaps the most 'unfortunate' in Africa. While Nigeria prides itself as a maritime nation, it has no ships, except a handful of service and offshore crafts and outdated single hull tankers.
There are a few supply boats, and this is why some cadets seek help at ferry jetties and in other places. They are either ignorant that such places can't pass for sea time experience, they just want to be at sea and 'any sea' would just do!
The nation's seafarers have degenerated so badly from the glorious days of the NNSL. But even if there is no national carrier anymore, can't the nation's maritime managers think of other ways to make our seafarers employed, by first making sure that they are employable.
It is a shame that Nigeria no longer parades world-class seafarers; she no longer owns high tonnage ships. But even if we no longer own ships, the abundance of budding and qualified seafarers should propel government to guarantee secured employment for them. This, in our opinion should be the essence of the 'seafarers' day'.
It has become an annual ritual for NIMASA to gather the crème de la crème in the nation's maritime and allied industry under a single roof for talks, foods and drinks on the 25th of June every year. While, we have nothing against the celebration or the gathering, it is shameful that year-in-year-out, it has become a gathering for claps, encomiums and backslapping, awaiting for yet another year to do same.
What has changed in the life of Nigerian seafarers since 2010 when Nigeria joined the rest of the world to celebrate their day? Arguably, nothing! The nation still parades a sizeable percentage of half-educated, hence unemployable persons who lay claim to being seafarers. We still have ill-equipped maritime schools that dot the nation's maritime landscape.
Notwithstanding these failings, we still join millions of users of the services of the world seafarers to say a very big thank you to all of them, because without them there can be no commerce.
The world's seafarers sacrifice the comfort of their homes and family and face the hazard and loneliness of the sea.
Kindly like us on Facebook