"Yes, tankers are better in terms of standards and quality than trucks carrying containerised cargoes"
Abdullahi Mohammed Inuwa, is the former Lagos State Vice Chairman, National Association of Road Transport Owners (NARTO), Dry Cargo Section. In this interview with OLUYINKA ONIGBINDE, he speaks on why it has been difficult for the e-call up system to work at the Tin Can Port. He also proffered possible solutions.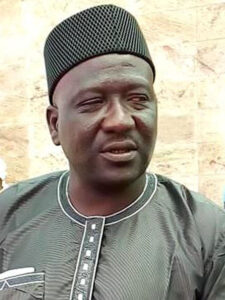 How will you describe the operations of the Truck Transit Park since the Presidential task team left?
I will say they are trying their best. They started with a lot of challenges. You cannot start something in a day and get it 100 percent right. Thank God they have started and they have been moving from the teething problems. They are trying their best. It had been a big challenge.
Recently some truck owners protested about the issue of extortion by security officials at the Tin Can port. Don't you think we are still battling with the same problem?
When the Electronic Call up started, we expected some teething problems but you will observe that there has been some level of sanity in some areas. We have only three other areas and I believe the NPA and also the TTP are not sleeping. We only have this problem around the Tin Can axis and in this axis, we still have electronic gadgets for electronic call-up. Presently, the decision taken by the management by blocking the other gates in order to have a central gate to access the truck park at Tin Can is a good one. But the main issue is that we have multiple checkpoints mounted by security agencies from Fatgbems bus stop down to Otto-Wharf and Sunrise. To me, I don't think there is a need for these check points. This is because these checkpoints encourage a lot of illegalities. Firstly, it encourages extortion by security agencies. Secondly, it encourages syndicates that produce fake call-up to the truckers and thirdly, it encourages the security agencies to turn the expressway to their parking lot. Since the electronic call up has been introduced, I don't think there is need for those checkpoints. These checkpoints should be dismantled and also ensure collaboration between NPA and the Lagos State Government in order to ensure proper enforcement. LASTMA is supposed to deploy their personnel to monitor and ensure that there is no trouble from Mile 2 to Tin Can. The TTP system should be able to regulate the movement of trucks with valid call-up through the approved paths. Those roadblocks are actually encouraging those illegalities. This is where some people try to sabotage the good efforts in order to come back to the old system.
TTP officials said that it is difficult for the Call Up system to work at Tin Can port as a result of the road construction. What is your reaction to this?
I don't want to believe so, because about 85 percent of the road construction has been completed and fixed. If you are coming down from Mile 2 to Sun Rise, the road is more accessible than the road going outside the port. That is not an excuse. The road is more accessible than the existing roads. Where we have the problem is the existing roads from Trinity outwards Mile 2. I wouldn't want to align with the fact that construction is the main reason the e-call up has failed to work at Tin Can.
Some have also blamed lack of multiple entry points to Tin Can as one of the reasons the e-call up has failed in that axis.
his is why I said the decision they took by shutting down the other routes and the other second gate should be a priority for now. All those trucks should access Tin Can Truck Park; from Tin Can truck park, we can go about to regulate them to the different terminals in the port. The exit gate inside the Tin Can truck park and the 'Abuja gate' should be the only gate that should admit trucks for now before we can get it right. There is no need for any truck to come and park without any valid document. That road should be free. They should empower LASTMA to monitor that all trucks plying that route should have their valid documents for easy monitoring and accessing the port.
Recently MWUN opted out of COMTUA, can you shed light on what led to this?
I am not a member of the Maritime Workers Union of Nigeria, what led them to pull out is best known to them. When you marry a wife and you can no longer accommodate her character, you can divorce her. I think that is what I see from the whole issue. MWUN is in the best position to shed light on this.
We heard some officials of COMTUA are engaging in certain things that are not in accordance with the rules and regulations. How true is this?
Well, they are all human beings. When you have different people from different backgrounds, you expect to see such things. I can only talk about my own side. I may not know about the other side. That is the situation.
Going forward, if you are to give advice to the government regarding the traffic chaos in Tin Can, what will be your advice?
As I said earlier, all those road blocks should be dismantled. Let the government ensure that every truck go to their various parks where we have a valid call-up system. I will plead that the Eto should be empowered to be able to regulate the movements from approved parks like leaving in batches for easier control of accessing the MOB garage. If the road is free and the LASTMA officials are there monitoring and ensuring that there are no trucks stationed on the road, if they have their valid documents, you drive straight to the park and from there they regulate you. Those checkpoints are dragging us back. That is the truth of the matter.
Freight forwarders and importers say that many of the trucks plying Nigerian roads are rickety, not roadworthy and are the major cause of accidents. As an association, what is NARTO doing to ensure that trucks plying our roads are roadworthy?
You have to look at the factors that necessitated the cause. For so many years, our roads have been so bad. Even this government inherited these bad roads and it is of recent that they started working on the road. So if you talk about rickety trucks plying the roads, you will discover that it's not the same with that of tankers, that is those carrying wet cargo. They are different from those carrying containers. They are better in terms of standards and quality compared with those carrying containerised cargoes because they regulate their rate between NARTO and the government. There is an arm of government in charge of that, called the Directorate of Petroleum Resources. Also, the oil companies have something they give to them as supportive measures because if they are a constant transporter with them, they give you a kind of financial assistance and they will give you a long period of time to pay back in installments. But if it's not so with the dry cargo section, how do you intend to manage your trucks, without financial assistance, coupled with the dilapidated state of our roads. Again, there is no bank set up by the government to support the transport business in Nigeria and for you to acquire a standard truck, you need to have between N25 million to N30 million. When you have an investment for only one truck of about N30 million and you approach the bank for a loan, you won't get the loan, but somebody with a property of N3 million will be given.
Is the National Association of Road Transport Owners (NARTO) being carried along in the AfCFTA arrangement?
My Executive Secretary should be the best person to shed more light on this. But don't forget that our Executive Secretary is the President of West-African Transport Union (WATU) and our former President is also the Deputy President of AU, African Logistics Transport which comprises about 54 African countries. I believe that they are in position to shed more light on that I want to believe they are being carried along
Kindly like us on Facebook