"We have insured the barge, goods, staff on board and everything on the barge. Now we are covered"
Mr Bunmi Olumekun is the president of the Barge Operators Association of Nigeria. In this interview with Oluyinka Onigbinde and Adewale Buraimoh, he talks about the challenges, prospects and other issues regarding barge operations in Nigeria.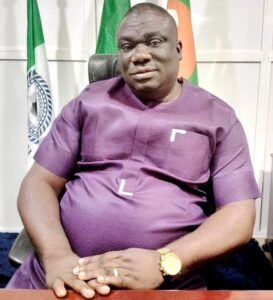 For the purpose of his interview, can you tell us what barging simply means?
Barging is a way of transportation, which is moving goods through a barge from one place to another.
When did barging start?
We started between late 2017 and early 2018. That was when we saw that the gridlock has really paralyzed the industry. We had to look for other alternatives aside from using the road for the transportation of cargoes. That was how we got into barge operations.
Who regulates barge operations?
For now, we have many regulators; we have NIMASA, NIWA and also LASWA. All of them have a role to play.
How do you react to the issue of NPA concessioning your operations, how will this affect your activities?
When I heard about it, I looked at the whole issue. You can only concession what you have. It is not possible for someone to concession my goods or the house I built by myself. We have over 50 jetties all over Lagos. Among all these 50 jetties, NPA only owns two which are the Kiririkiri and Ikorodu jetties. The other jetties belong to private people and our members. If they want to concession theirs, then its fine, they are welcome. But I will say if they want to concession, you should consider giving it to us because it is meant for us. Those jetties are meant for barge operators.
How true is it that barge operators have been operating in the ports without paying to the government?
That is not true; we have means of paying. Let me pull you back. When we said barge operations started 2017, we are just saying that because it came because of a purpose. Nigerians will always forget the past. But I can tell you that barging has been in existence even before 2017. There was a liner that came to Nigeria then from the 1990s to the 2000s. We call it the Baco Liner. The Baco Liners used barges and it was off-stream discharge. They don't discharge at the ports. They had to discharge on the mainstream and then move it to their Jetty at Kirikiri. So all these have been on ground and then there is a rule. There are fees that we pay then. Even now, in the Niger Delta, most of these products such as Petrol, Gas and the likes are moved by barges to their final destination. So barge is not just coming up now, it is something that has been in existence for years. Coming to these paying or not paying, there is a regulation then where we have fees we pay in dollars before your barge can operate on the sea. You have to pay what is charged by the Nigeria Ports Authority. Before you can have a certificate for your barge; even when it is built, you have to go to NIWA and give them a specimen of what you want to build. It is just as if you are building a house where you will have to get approval. You have to tell them what you want to build and they want to see the drawing. They have to come and certify that drawing before you start building. When you are doing all these, there are some fees that follow. Some are paid in dollars while some are paid in Naira. After building all these, you will still have to submit the same drawing to NIWA. NIWA will have to tax you before you can start running on the water. If you are running on the water and you approach NPA operation areas, you have to go to NPA and inform them which; we also pay in dollars. They have to check the weight and length of the barge. After doing all that, they are now saying we are not paying fees. What about all those we have paid? And these are paid yearly. If you pay this year, you will have to renew it every year. When people are saying we don't have fee structure, of course we have fee structure. The government has a good intention of putting all these things in place for us to have standards. What other kind of regulation do you want when we have all these put in place? As far as this association is concerned, our aim and objectives is to bring everyone to follow the procedures and make sure they do the right thing, because what we need is safety. If anything happens on the water, we are the first point of call because it is going to bounce back on us. It is our business and investment. We have to go by the standard and we want standards.
Can you put a value to how much you pay yearly?
It depends on the size of your barge. We have a range of N500,000 to N600,000 for one session and you know we are paying in different places, we have about three different places.
What do you mean by NPA operation area?
NPA is for the port. They are the regulators of the port. If you are not moving in the port, you don't have anything to do with them.
NPA has alleged the barge operators block the water channels which make it difficult for bigger vessels to come in. How will you react to this?
There is no reality in most of the things. How can a barge that is fully-loaded called and given a window to come to berth at a specific time, on getting there, there were some technical faults from the terminal and they cannot service that barge, because they might have calculated that the barge will be done within 30 minutes. Within those 30 minutes, something went wrong and they could not service the barge and a vessel was already booked for the same time. When these things do not work well, instead of managing the situation, they will ask the barge to leave because you are nobody as far as the country is concerned. They will however call on the foreign vessel, because the vessels will give them more money. Who does that? Even if that happens there is supposed to be an emergency berthing space. Unfortunately, there's none. They have covered everywhere. Then we would be asked to go and come back. Do we use water to run our engine? We use the same diesel that they use. So how do we run and settle our business? We are then asked to go back and be rescheduled for another day. Can they do that to others? We have to be treated equally, we are both customers.
What about the issue of night movement by barge operators?
When I heard that, I was just crying for this country because some people are just deliberately frustrating things. How can you say you want to ban movement of barges in the night when maritime business is 24/7? Even 24 hours is not enough for us. Before you know it, it is gone. These vessels are coming to move our products. These products are somewhere at the jetty and you deny them coming at night when the vessels are there; coming and going in the night. Is it when the vessels are going you now allow your products to come? You will miss it.
How many barge operators do we have in the port?
Presently, we have over 180 all over. But within Lagos, we have about 80 operators.
It appears that most of the activities of barge operations are in Lagos. Are they vibrant in other states?
Through the help of NIWA, we are trying to collaborate with the states and see how we can make these things work. We have done a pilot test moving from Port Harcourt to Onitsha; but you know the security situation of those areas. So we burnt our fingers in the process. In a situation where about four of our Captains were kidnapped on the barge, then what is the value of what you are carrying when you have to pay millions of naira as ransom to kidnappers. If the government is sincere, let them come and see how we can improve this. These attackers on the waters are our people too. The government can invite them and ask them to invest. They would not be able to steal what they invest in.
How capital intensive is barge operation in Nigeria?
You have to have about N500million to get a sea-going barge. The new Lekki Deep Sea port coming up is on the sea. That means we have to go through the break waters. The Barge and Tug boats that will be used there are supposed to be sea-going. Then you must have about N500m to get just one sea-going barge, not to talk about the Tugboat. The Tug boat is about N250m. That is about N750m to get only one barge.
What do you think the government can do to boost barge operations in the country?
They have a lot to do, they have to invest. I have always said if they invest 20 percent of what they have invested on rail, on maritime, they will see how Nigeria will be great. We have not even tapped 20 percent of the potentials that we have in maritime sector. We can get a vessel and give it to them. They are ready to pay. We would just negotiate the freight for them. That means our good can move from here to Asia and not stop. Just assemble all the containers that are going to Asia and move it on the vessel. Charter the vessels and you will see what the vessel will be able to make. Although they are doing marvelously well on the rail, what I am saying is that they should just invest 20 percent of what they are investing in rail and they will see the result. We are talking about dollars. We have a lot in the waterways and we can achieve a lot there.
How many containers have you been able to move and how many accidents so far?
We have hit about 3 million TEUs from when we started. We have had about four to five accidents. But I can tell you, I don't think we would be able to record any accident again. Even if it happens, we are covered. We are covered in the sense that we have come up with eight insurance companies to insure us. We have insured the barge, goods, staff on board and everything on the barge. Now we are covered.
What is your association doing as regards the issue of rickety barges that we have on the waterways?
For now, I cannot say there are no rickety barges. But we are trying to see how we can sanitize the industry to the extent that we don't allow any illegal activities to take place. We just had a marriage with the Maritime Workers Union of Nigeria, because they have the manpower for them to check these barges before they move or load from any jetty to another ensuring they are sea-worthy. So we have had a marriage of convenience with them, so that we can work together and see that everything works smoothly.
Kindly like us on Facebook