Seventy-six people went missing after a migrant boat sank off the coast of Tunisia, the United Nations migration agency said on Wednesday.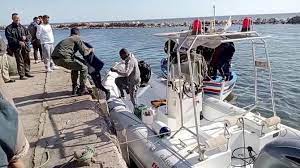 Twenty-four others were saved after the sinking of the coastal city of Sfax and a rescue operation is ongoing, the International Organisation for Migration (IOM) said on Twitter.
The boat had sailed from the Libyan city of Zawra, the agency added without giving further details.
Some 650 people have died in the Mediterranean this year, according to IOM spokesman Flavio Di Giacomo.
"And yet the appeal to strengthen the system of patrols for search and rescue in the sea is not heard,'' he wrote on Twitter.
The night before, there was another accident off Tunisia when an overcrowded wooden boat carrying 110 people capsized, the German rescue organisation Resqship said on Twitter.
Their sailing boat Nadir, together with a boat from the Spanish aid organisation Open Arms, was able to transport the people who had fallen into the water to life rafts.
According to aid workers, the crews and those rescued were waiting on Wednesday for help from a ship that could take the migrants on board.
"The behaviour of the European authorities is scandalous and puts human lives at risk.
In spite of the several distress calls, all European authorities have refused to help in the last 8 hours, tweeted Resqship.
Tunisia's neighbour Libya has become a key transit country for migrants seeking to reach Europe due to political instability resulting from the civil war there.
Libya descended into chaos after a 2011 revolt that toppled long-time dictator Moamer Gaddafi.
Kindly like us on Facebook