Oluyinka Onigbinde
The Vice Chancellor University of Lagos Prof. Oluwatoyin Ogundipe, has said the University of Lagos (UNILAG) is ready to partner with the Nigerian Ports Authority (NPA) training school on capacity building and development.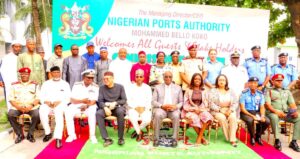 The Vice Chancellor of the university, stated this last week during the commissioning of the training school in Lagos.
Ogundipe said that the university will collaborate with the training school in the area of Diploma programmes or Masters programmes, so as to make the best use of the facility.
He informed that there are customised courses that can be offered at the training school that will serve as an eye-opener for the maritime industry.
"Training is about development, exposure and it's about opening one's inner eyes, that where they call dry land you can still get something from it. I am excited concerning what we are doing today.
"I congratulate the MD of NPA, Bello Koko because what we are doing today is saving the country some funds that would have been used in sending people abroad for training.
"Secondly, you are bringing resources into play here where you can get some of our colleagues that will be able to teach and also expose staff in NPA to the recent development in the area of maritime and other related courses. I want to assure you that the University of Lagos is ready to collaborate with you in the area of Diploma programme or Masters programme , so that we will be able to make the best use of the facilities here , we are ready to collaborate with you in the area of customised programme" he said.
Speaking at the commissioning the managing director of NPA Mohammed Bello Koko, said s the decision to invest so much in the facility took cognizance of its former employees, some of whom he said although are retired, but actually not tired and as such, there is need to tap into their wealth of experience and institutional knowledge by inviting them as resource persons to train upcoming employees.
He noted that processes are also in the works to partner with the World Maritime University, the Nigerian Navy Hydrography Department. Nigerian Institute of Marine and Oceanography Research, the University of Lagos and other research and learning institutions in the area of curriculum development and capacity building.
He informed that work is at advanced stages to transform the NPA Riggers Workshop to a Marine and Seamanship Workshop to be deployed for training in the area of Seamanship Practical, Radio/Signal. Marine Engine/Auxiliaries. Buoyage Practical, Mooring and other marine-related competencies which are increasingly in demand; not just in-house but indeed in the industry.
He also urged sister agencies in the maritime sector that are desirous of a best-in-class training platform for their employees to make use of the NPA facility.
He said: "Let me therefore seize this moment to recommend this facility for patronage by sister agencies in the maritime sector and other industry players who are desirous of a best-in-class training platform for their employees.
"Sustainably providing efficient port service in safe, secure, and customer environment requires that we ensure and assure our skill preparedness and put in place a robust talent succession planning procedure that places emphasis on best practice as a culture.
Kindly like us on Facebook