Hong Kong bulk carrier collided with Filipino fishing vessel, 7 missing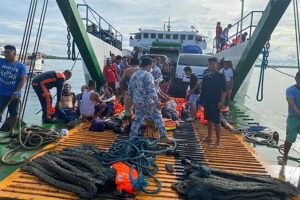 Bulk carrier HAPPY HIRO collided with Philippine fishing vessel FB JOT-18 at around 1730 PST (UTC +8) May 28 in Sulu sea, while en route from China to Australia. Bulk carrier, according to track, was ordered to interrupted voyage, turned to Panay island, Philippines, and anchored off Culasi early in the morning May 29. Fishing vessel sank, of 20 fishermen on
Two freighters collided off Kartal, Istanbul
General cargo ship MARE under way struck the stern of anchored general cargo ship AREL 4 at Kartal Anchorage, Istanbul, Asian coast, Marmara sea, in the afternoon May 29. ships reportedly didn't suffer serious damages, MARE was brought to anchor after collision near her adversary, AREL 4. MARE was disabled prior to collision,
18 containers lost in stormy Andaman sea in Thailand waters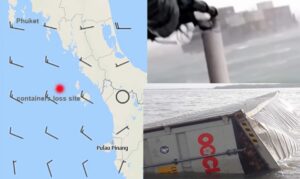 At least 18 containers loaded with processed rubber wood, were washed overboard fro container barge NAMTHONG 27 on May 29 in Andaman sea, Thailand waters, Petra Marine Park in Satun province. Barge was towed by tug FORTUNE II (no data found), operated by YKP Ocean Line Company, caravan was caught in cyclone raging in Andaman sea while en route from Kantang port in Trang to Penang Malaysia.
5 containers had been found on a beach on Koh Sarai off mainland Satun, while 8 more were spotted by fishermen off Langawi island in Malaysia. YKP Ocean Line Company already dispatched 2 tugs to assist caravan.
X-PRESS container ship struck by barge, holed
Container ship X-PRESS KOHIMA, berthed at Chittagong port container terminal, was struck by a barge on May 30. Ship's hull on a fore area was holed, in the morning May 31 the ship was moved to TSP Jetty for repairs. X-PRESS KOHIMA is deployed in Colombo – Chittagong service, she was docked at Chittagong on May 29.
Kindly like us on Facebook