"They have even turned the CRFFN election into something bigger than the Local Government Council. I wonder why they are making this thing look like a do-or-die issue"
In this interview with Shipping Position Daily, a member of the immediate past governing council of the CRFFN; and President of National Association of Airfreight Forwarders and Cargo Consolidators (NAFFAC); Prince Adeyinka Bakare speaks about the intrigues and preparations for the coming elections into the new governing council.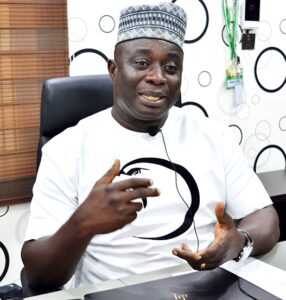 As one of those who subscribe to the 6-6-1-1-1 sharing formula into the Governing Council of the CRFFN, don't you see any need for the formula to be reviewed to allow others?
The decision is not mine as a person. The decision is that of the association; which is NAFFAC. What are we looking at? We're looking at our past experience that is, the election that has taken place in the past. We have the election of the first, second, and third Governing Councils. The first Governing Council, asides ANLCA that took over the council, only NAFFAC had one slot which was part of the first eight people that went into the Council. In the second election too, only NAFFAC had one slot. Even NAGAFF did not get one slot. We realized that as at that time, NAGAFF was coming with two, three people, if they had come with one person and they put their votes together, they would have won. At that time, Dr Aniebonam lost with just one vote to Tony Iju. This was because Aniebonam ran together with Dr. Eugene Nweke. If their votes were together, Aniebonam would have been a member of that Council. So we relied on these past experiences. We have more than one person from NAFFAC, about three people who took the form, but we felt if all the members of NAFFAC queue behind one candidate, we will have reasonable votes to go with into the election. That is the basis of the stance of the association. It is not about money or the sharing formula. Let's call a spade a spade. If we have an election and we allow all these money bags to come into the system, some associations will not even get one slot in the Council. I think we have about 14 people taking forms from NAGAFF and about 15 people from ANLCA and look at the representatives from National Council. How are we going to muzzle everyone in? You will realize that at the end of the day some of the accredited associations will not even have any representatives. We're trying as much as possible to have fewer court cases. This is because, this is one of those things that will keep dragging us back. When I was a member of the Council, we had almost 17 cases in court. At a time, we were begging people to withdraw their cases in court. For how long would we continue to do this? At the end of the day, they will say the Council has not achieved anything. We keep having court cases; saying you can't do this and that. If you ask me, I will say the associations are the same. It is an election. If I win, I win and if I lose, I lose. But since the Council has accredited five associations, let there be a representative from each. Whether we like it or not, the Council is quite different from the association. Whether the Council is there or not, when there are things to be done, the five associations will still be called. If there is any decision that will be taken, it will still be decided by the Presidents of the five associations and not members of the associations. Whatever we agreed on is what we take back to the members. It has nothing to do with the council. One of the problems we have is that our people are yet to differentiate between the Governing Council and the Management of the CRFFN. They are two different entities.
Don't you think with this sharing formula; you are negating what the Minister has said that the election should be open for all freight forwarders?
We have not said people should not contest. The Act says there should be five representatives each from the Land borders, Western and Eastern Zones. This same Act talks about the associations for the purpose of control, guidance and instructions etc. It also makes a clear indication that even when the Minister is giving directives, it doesn't go directly to an individual but to the Council, which in turn passes it on to the associations. When giving directives to the Council, it has to be according to the recommendations of the Council. The process was so clear.
Now looking at these individuals and for the purpose of control, what the council really is meant for is to represent the freight forwarders and not for an individual purpose. Our people have a mentality that once it is not in their favour, it is not a good policy. But when it is in their favour, it becomes a good policy. I have not seen any individual candidates; Dr. Increase Uche the President of NAGAFF, is that an individual candidate? the same person that worked against individual candidate in 2018? So tomorrow if I'm no longer the President of NAFFAC, should I also come out as an individual candidate?
The Minister of Transportation has described CRFFN as a house of petitions. How do you think these associations can reach out to those that are aggrieved to ensure that we have a CRFFN that will be devoid in all of these petitions in the next Council?
The problem we are having is not CRFFN as a Council but the freight forwarders. The majority of those people you see at the CRFFN are not freight forwarders. They are civil servants. Some of them have not even practiced. Maybe just one or two from the management. When the Council is mismanaged, who suffers? It is the freight forwarding industry. From 2007 till date, the Council has not really run a successful tenure. By now, we should be able to have a good administrative structure and things working the way they should. When you get to the Secretariat you will notice that some staff don't come to work; the ones that come don't usually do much work. The agency is not working up to the capacity. They don't even have an income or revenue. When we came in, we had like 17 court cases. When someone writes a petition and at the end of the day he does not get a response, they will decide to go to court. Some will even abandon the cases in court and when they are called upon they might pay a lawyer to show up a say they are looking for one document and it will be adjourned till another six months. We even had to meet some persons to withdraw their court cases. We have tried. We invited the Independent Candidates to come over and let's discuss the modalities, but they did not show face. Messages were sent to them individually but they didn't show up. The freight forwarding industry is suffering. They have even turned the election into something bigger than the Local Government Council. I wonder why they are making this thing look like a do-or-die issue.
Is there anything special in the governing council that is attracting the interest of freight forwarders?
Honestly speaking, I don't know. That is just the truth. The car that was given to my committee is not for me. It is for the committee. If you have a meeting in Abuja, they will give you a ticket for an Economy ticket. In most cases, they will buy the economy for you. Then, when you get there, they will transfer N50,000 to you for your sitting allowance. The last time I was asked if I'm going back to the council, I said No. This is because I don't see any special attraction there. Or maybe because when you are sitting, you will have a lot of Ministry people around, the Directors of other agencies they see is as an avenue of knowing and getting to meet people. But when it comes to benefits, I have not seen any. If you look at those who have picked forms now, the Ministry would have collected almost N16Million now. Even if we are sitting down four times in a month with N50,000 each, how will you quantify it compared to the money you have paid to get in. It also boils down to the crisis in some associations. That is really playing out back to affect CRFFN. Some members in my association have insisted that I should go and that others that have picked forms should step down for me. For example, if we present three people, do we have the numerical number to win the election? So why are we presenting three people? It is better to have one person than have three candidates with less population of votes which at the end of the day, no one will eventually get there.
The Federal Government has proposedN686 Million as the CRFFN budget for the 2022 Fiscal year. What's your take on this?
If you look at the breakdown very well, you will realize that the budget has not carried anything that has to do with per head or expenditure. The majority of the budget is on fixed assets, completion of some projects that they have at hand, and a bit of Personnel. As far as the CRFFN is concerned, the government is still looking at them generating their own revenue and from there they would be able to balance some things. So I think I am not seeing anything serious in that because there are lots of pot holes that have not been completed. Those are what the budget is for and not for the grassroots to come and spend. If you look at that figure you will think the Council is rich. I don't even think that the CRFFN management fund is up to N100million for them to fuel their car and other logistics. I think there was even a particular fund that was fixed for the completion of NIIT. It is still under construction and they keep budgeting some amount of money for it every year until it is completed. We are still looking forward to completing that project. Maybe that is what is even attracting those who are fighting to get into the Council who knows?
The Minister gave two weeks to resolve every issue and come out with modalities for the elections. Have you been able to finalize?
Yes, I think a communique has been sent to them and we are expecting a reply from them hopefully before the week runs out, we will get feedback from them.
For the past six years, we have had a new Minister of Transportation. Can you rate his performance so far, especially in the maritime industry?
I think I can remember vividly that when he came back for the second term, he said that he has not really paid attention to the maritime industry. I must tell you that you have to be very strong to face the maritime industry. The industry has a lot of big wigs and money bags and you must be ready to face them. It has been a very powerful industry that if you are not strong, you may not be able to cope. I think he has been very careful too to watch the maritime industry from crises. To some extent, I think I will say he has tried because looking into an industry he has no knowledge about, he has been able to bring in some developments. One good thing about him is that he is a very blunt person. He tells you exactly what he wants to do. Even if we cannot have a Minister, at least just as we have in Aviation, Maritime is even bigger than Aviation, we can have a Special Adviser (S.A) to the President on Maritime alone, so that he will have the first information and really be on ground to face the maritime industry. I think that will help. Almost every week, he is on the Railway line to do an inspection. So if he dedicates two, three days in a month to visit Railway lines in Lagos, Warri, and Kaduna.
Are you satisfied with the current state of our maritime industry compared to other countries?
The truth is, there are some comparisons I don't do and I will tell you why. Nigeria has a population of about 200 million people. This port has been built about 30, 40 years ago. The newest amongst them is the Tin Can Island port and they are all seaports. We don't have any deep sea port here that can take what we are consuming. The Cotonou or Togo ports were just newly-built and they are doing well, knowing that they are there to attract shipping lines. They are not the consuming nation. They don't have the population. All they do is that they generate some revenue for them and they just do a bit of transshipment to other nations. Whether we like it or not, we are still an import-driven nation. We are not into that much of export. We also have some land-locked countries around us that also rely on us Nigeria as a passage to their country. So all those things still come back to the little work that we have. But something better can still be done. The industry is so delicate that we don't look for professionals. Nigeria tries as much as possible to politicize everything. At least to some extent, professionals need to be deployed as the head of all these agencies, so that we will know what to do. We should try as much as possible to decentralize our port system if we want to get it right.
Kindly like us on Facebook