Russian fishing vessel AMUR collided with Japanese boat, rescued crew but 3 died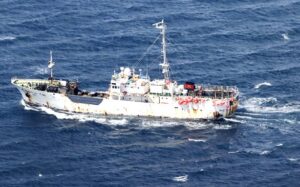 Russian fishing vessel AMUR collided with Japanese fishing boat some 15 nm north of Mombetsu, northern Hokkaido, Japan sea, at around 0600 Tokyo time May 26. Boat capsized, 5 fishermen on board were picked up by AMUR, but 3 of them later died. AMUR after collision sailed to Mombetsu port, docking there several hours later, and as of 1400 Tokyo time, she remained berthed.
According to Japanese fishermen, their boat was engaged in catching crab and couldn't maneuver, Russian ship was on her way and struck the boat. According to Russian Captain, AMUR collided with boat, because failed to spot it in a dense fog, and also, because such boats shouldn't go fishing that far from coast.
Ro-ro sank after collision with tanker, 3 crew including Captain missing, Japan
Product tanker ULSAN PIONEER collided with ro-ro ship BYAKKO at around 2355 Tokyo time May 27 in Inner Japan sea northwest of Imabari, Shikoku island. BYAKKO sank some 3 hours later, after reportedly, capsizing – obviously, stability loss after cargo deck flooding. Of 12 crew on board, 9 were rescued, 3 are missing, including Captain, Chief Engineer and Second Engineer. SAR is underway for missing crew as of 1400 Tokyo time Nay 28, tanker ULSAN PIONEER is anchored nearby. BYAKKO was en route from Kobe to Kanda in Fukuoka Prefecture, ULSAN PIONEER is en route from China to Osaka. Tanker suffered heavy damages in starboard side bow area.
Iranian freighter sank in Strait of Hormuz UPDATE
The ship with cargo of ceramic tiles was en route from Iran to Oman, she sank at 2250 LT May 26. All crew thankfully, were rescued, all are safe.
General cargo ship MATIN 1 reportedly sank in Strait of Hormuz on May 16 or early in the morning May 17, no other information available at the moment. The ship left Bandar Abbas on May 26, port of destination unknown, last AIS position dated 1800 UTC May 26. Information isn't yet confirmed, awaiting updates.
Container ship aground, probably sank, crew evacuated, Arabian sea
Container ship MUZAH ran aground at Jazirat As Sawdah island coast, Khuriya Muriya islands, east of Salalah, Oman, on May 23. Hull was breached in engine room area, which was flooded. The ship issued distress signal, Royal Oman Air Force scrambled helicopter and evacuated all 12 crew, including 6 Syrian and 6 Indian nationalities. The ship reportedly sank, but probably not, she seems to be aground with both anchors dropped. Understood she anchored but coulnd't hold on, and drifted in shallow waters. As of 0620 UTC May 24, no AIS during last 18 hours. The ship was en route from Mukalla, Yemen, probably to Dubai UAE, she was trading between Mukalla and UAE ports during last 12 months, at least.