"We will make NAGAFF members going to the Council to endorse certain documents. It is not oath-taking"
In this no-holds-barred interview, the Founder of NAGAFF; Dr Boniface Aniebonam talks specifically about the coming elections into the governing council of the Council for the Regulation of Freight Forwarding in Nigeria (CRFFN), especially how his association is preparing and its chances of controlling the outcome of the elections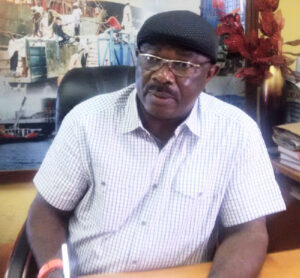 Are you satisfied with the arrangement for the coming CRFFN elections?
At this point, I don't think we should be talking about satisfaction. The point is that you just have to follow the directives of the government because CRFFN as of today is an agency of the government. When they give an order or directive, you have two things to take; which is either to follow or to say No and when you say No, that means you will approach the Court. For now, we have not approached the Court which means we are still following what they are doing, but we are not really very comfortable with the approach. Sometimes it is better to give peace a chance, but the truth is that we are not very happy.
As a matter of fact, I just finished speaking with the President of ANLCA right now. We have just set up about a 6-6-3; that is, a 15-man committee. NAGAFF is coming up with six strategic people and ANLCA themselves and the other three associations will be nominating one person each. That will lead to a stakeholders meeting coming up next week Monday and there we will be able to take a position as to what is going on as far as the CRFFN election is concerned.
What about not involving the freight forwarding associations in the preparations for the elections?
I think the most important thing is that CRFFN belongs to us. It is an Act that belongs to the freight forwarders. The Act was made to regulate and control the practice of freight forwarding in Nigeria. The law tells you to engage us while administering us and you are not engaging us. You are just giving directives. In democracy, it is not too good. Individually we have been talking. This time it is going to be collective. This means that we are ready to say no to what is going on.
But, elections are just a few days away
We may say No. CRFFN is regulating practitioners and has three categories of membership which are Individual, Corporate and Association. The individual and corporate are members of the association that are duly registered by CRFFN. It is not acting in vacuum. The need for consensus between them cannot be overemphasized. We are eager to be involved in professional standards. That is why we approached the National Assembly to come up with this law. If we continue to go with the current administration of CRFFN, we will not be able to achieve the mandate. Hence, the Nigerian Shippers' Council in collaboration with other critical stakeholders approached the National Assembly and this law came up. Since this law came up, there has been one story or the other in breaches. From one ministerial position to the other, to the extent that some of us thought we have to include and amend the Act as it were in the National Assembly to remove us from the Ministry of Transportation to probably Trade and Investment, because the subject matter is that of trade.
How prepared is NAGAFF for the elections?
NAGAFF is always prepared. It is no longer news that NAGAFF is the brain behind the establishment of CRFFN and that is why we have been doing everything possible to see that CRFFN succeeds. We are ready, we are always there. In the last election, you saw that out of 1300 members, NAGAFF had 1100 and because we understand what CRFFN is all about, we didn't take that advantage to take the 15 chances. We still said in order to meet up with the objectives of CRFFN of collective responsibility, we ended up allowing consensus wherein NAGAFF had six representatives, ANLCA has six and other small associations had one each and it was peaceful. The contestants of NAGAFF are almost 14 in number. We know that we can, but that is not the issue. This is because if we win all the positions, it does not make any sense. When you look at CRFFN as a regulatory body that has to do with the mandate of the freight forwarders, we need to create opportunities for others to come in. If NAGAFF takes all amongst the five registered associations, it doesn't make sense. We are ready for the elections hence we need to give considerations to others.
You once said NAGAFF has raised N100Million for the election. What's the money for?
You need to add value in terms of those who will vote and those to be voted for. For example, Registration is N500,000 for each contestant and if you multiply the number of people we have in NAGAFF with are 14 in number that is about N7 million. Each candidate that will vote will spend a minimum of N30,000.
NAGAFF is an organization whose major interest is to protect the interest of our organization. If CRFFN says that you must pay your annual dues for you to be eligible to vote or be voted for, if they (our members) don't have the money, then what is the essence of you being in our association? We need to come in and assist them so that they can take advantage of their membership. But for them to be denied the opportunity, that is wrong, and that is where the intervention has to come in. That is the essence of the association. This money covers the logistics to go to Abuja for the elections; by either flying or chartering a bus and you also have to make arrangements for hotel accommodation. The minimum budget we have for each candidate is about N10million, which means we will be talking about N140million. We have about N100million cash already raised, but before we get to that level, we will see what we can do.
Why are you still contesting the status of CRFFN?
It is because of the evil men and women. It is very unfortunate. How can you say the Chairman of a Council will be an elected person from the register of freight forwarders and the agency turned to become an agency of the government? Are you telling me now that the Chairman of the Council is a government worker?
But the court has ruled on that?
That is why we are at the Court of Appeal and the court has done so many things to the contrary. You cannot separate the Judiciary from Nigeria. They are Nigerians. Things are not going well and that is why one of the major issues is fighting against corruption. Things are not working well in our country and we should stop playing to the gallery.
Is NAGAFF still going ahead with its plans to win 10 seats in the Council?
It is not an ideal thing to do. But if we conduct the election and we win all, what can we do? I will not be comfortable with that because I was among the people that drafted the bill. That is not what the Bill wants to achieve. This is why CRFFN under the transport ministry is not doing well. You cannot administer the CRFFN without the Stakeholders Consultative Forum which is embedded in Act; of course that has to do with the associations.
Do you think the Minister of Transportation means well for CRFFN?
He should mean well. Amaechi is a man of honour. He has delegated powers just like Mr. President. These are the issues of supervision. Now as I am talking to you, for the past weeks I have been sending materials directly to his phone and WhatsApp lines and I expect him to react to them. For instance, you can see that screening is no longer going on in Apapa and nobody is telling us why it is so. Our candidates went to Rockview Hotel (for screening) and nobody was seen there. It is possible that the Minister is able to react because we have been raising issues that are germane. If you don't bring up matters before him, he may not know.
Why is NAGAFF reaching out to other freight forwarding associations?
In the last election, that NAGAFF had what it takes, 1100 out of 1300 and we still went down to that level. This time around, the records are there. We saw there are about 500 that have been registered as of Friday last week and NAGAFF is about 380. If we want to clear the place, it is not a big deal, the records are there.
We are reaching out for the good of the Council, our profession, and the peace of our industry. We need to work together. You can as well ask why Nigeria has been struggling to be one. We need to live as brothers and sisters in the same trade. You should not say because you have a higher stake and say others should go.
This is the same pattern as the last elections. Why?
You need to understand that when you are dealing with human beings, you cannot predict them. You must have observed that human beings change positions. If everyone is a normal human being, there won't be any need for the Police, Army, and all that. If we have elected 6-6 persons and they went there and didn't do well, it is not the procedure or the process, but the human being. This is because some of them might be power-drunk, greedy and anything could happen that could derail the concept. I am telling you that those mistakes we saw will not happen this time if anybody is to go there to represent us.
How will you guarantee that?
We can. We will make you to endorse certain documents. It is not oath-taking. It is to endorse an agreement on what you ought to do. It is done in political parties. If you don't do that, it will be a mandate. Are you not aware that a particular President; before you are made a minister, you will sign a letter? When we are speaking, we still have to accommodate the other small ones.
Can we say now that there will be a consensus at the elections, like before?
It is likely. By Monday or Tuesday, there will be a Stakeholders' meeting for all freight forwarders in Rock View Hotel in Apapa. NAGAFF and ANLCA have six slots each while the other three associations have one each. They will now organize it and we all come to speak our minds. After that, we will put a document down and send it to the Minister of Transportation.
You keep talking about NAGAFF having the highest number of voters
The membership of NAGAFF has to do with natural persons primarily. So the number is with us. It is by the Act. For instance, you cannot be a member of ANLCA except you are Licensed by the Customs. That must be an artificial person. The number of Licenses issued by Customs is plus or minus about 800, that are operational. You will also see that not all of the licenses are owned by members of ANLCA. The NAGAFF people own licenses too. We have Individual and Corporate practitioners. We know what we are saying. The number of people that are not licensed by Customs are about 90 or 95 percent and they are all members of NAGAFF. It is automatic.
Kindly like us on Facebook