In this interview with Oluyinka Onigbinde, the Federal Controller of Works in Lagos state; Mr Kayode Popoola dwells on the challenges of rehabilitation and reconstruction of federal roads in Lagos, with special reference to the two approaches to Lagos ports.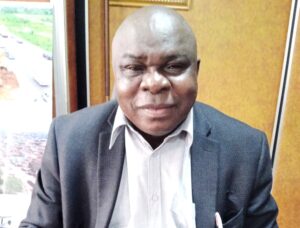 Can you give us the scope of your work as the Federal Controller of Works in Lagos?
As the Federal Controller of Works in Lagos, all Federal roads are under my purview. If there is any failure on the road, it is my responsibility to report it to the Honourable Minister who will now give directives as to how it would be repaired. I am to also oversee the assets of the Federal government which includes the bridges and roads and to make sure they are in perfect and good condition. I am able to represent the Honourable Minister here in the State and other agencies of the Federal Government on how to collaborate with them so that the policies of the Federal Government are being carried out as regards the aspects of the Federal Ministry of Works. We hold meetings regularly with other agencies of the Federal government. Also, we interface with our host state which is Lagos state. Regularly we do hold meetings and discuss the progress of works, challenges faced and on their part, they report to the Governor, while I report to the Honourable Minister.
The two bridges leading to the Tin Can and Apapa port are in a bad state. What is the Federal government doing about them?
If you observe, you will see that since 2018, the Federal Government awarded Apapa-Oshodi-Oworonshoki up to Ojota. The pavement that we have there before was called flexible pavement; that is, you will see asphalt on it. Sometimes we use laterite or granite to put the sub-base which we call stone base. But now because of the traffic which that road is subjected to, we see a lot of containers and trucks. We have so many tank farms located within the Apapa axis and all these loads are being transmitted through our roads. In order to strengthen the road and make it last longer, the Federal Government has decided to change it to what we call rigid pavement and this rigid pavement is a continuously reinforce pavement structure. It is made up of concrete reinforced with steel. So instead of the flexible pavement that should last for about 20 years, this one will last for more than 40 years. That is what the Federal Government has done. Coming to the two bridges you mentioned, it is also part of the work which will be done. The contractor that is carrying out the work rehabilitation is Dangote Industry Limited, sub-contracted to Hitech Nigeria Limited. So the two bridges will also be repaired when the time comes.
Some truck drivers still park on some of these bridges. What are you doing as regards ensuring that trucks do not park on these bridges in order to make them last longer?
The bridges are designed to carry dynamic loads. Dynamic loads in the sense that you are to move from point 'A' to point 'B' on the road, and when you now park on it, that has become static load which is not what the road was designed for. So it has negative effects on the bridges. Several efforts have been made to make sure that all the trucks are being evacuated from the bridges, they are not even expected to park indiscriminately. But when you go around, you see them park under the bridges. Some of them make fires and all these things have negative effects on all our bridges. The Federal Government had made efforts to see that they don't do that. A couple of times, the Federal Controller's Office and the Task Force of the Governor's office have carried out a lot of arrests and evacuation of all these trucks from the bridges. But they do not comply. If they stay away for two to three days, before you know it, they will move back again. But there is no way they can win that fight against the Federal government. It is a fight the Federal government will win. It is just a matter of time. Even the Lagos state government is supporting us fully. Several times the Governor has given directives that no truck should park within Apapa not to even mention the bridges. So It is a collaborative effort between the State and Federal governments. We will make sure that we win that fight.
We also observe that some truck owners carry tons of loads that are higher than they ought to. Is the government considering weigh bridges in the port?
Even at the port, the Federal Government at the loading bays has weigh bridges. But you see all these truck drivers. I don't know the kind of human being they are. Some of them will weigh their goods before leaving but when coming out, having passed the weigh bridges, they will add extra load. That later informed the Honourable Minister to say that all the weigh bridges we have in Lagos state before should be refurbished. About two weeks ago, the Honourable Minister, Babatunde Raji Fashola was here in Lagos to inspect the weigh bridge at Ojota. It is about 95 percent completed. So it will soon be put into use. We have another one at Owode Onirin. Over the weekend, the task force went and demolished the shanties and evacuated all the illegal occupants. The Contractor will soon move to the site and carry out a refurbishment of the Weigh bridge at Owode Onirin. Nationwide, Weigh bridges will be introduced on all the Federal highways so as to check the excesses of truck drivers.
What is your perception of the behavior of the average truck driver?
Some of them behave very well and obey rules and regulations, but majority behave as if they have duplicates to their life. We work together with the Sector Commander of the Federal Road Safety Corps (FRSC) In Lagos state here. Last year, there was a time he wanted to do an Alcohol assessment on the drivers; to know if they have Alcohol in their blood. We started that programme at 7 a.m, out of the first 10 that we stopped, eight were drugged with alcohol in their blood. Now tell me, if someone as early as 7 a.m is already drunk, how will he drive? The driving habit is best imagined than experienced. That is why we have so many crashes early in the morning. This is because when you are drunk, you are tired and you still think you can drive, you will sleep off. Before you know it, the vehicle will crash into another vehicle, and then you have an accident. Concerning their behaviour, they need a lot of continuous training and orientation so that they will know that they don't have a duplicate to their life. They should behave like normal human beings. Honestly, I will say their behavior is nothing to write home about. If out of 10 persons 8 were drunk, it means it is a general life to them.
We have observed that some parts of the roads that were constructed by Dangote in Apapa are already having pot holes
If it is the one that Dangote is doing now with continuously reinforce pavement structure that we are using concrete and iron, I have not seen any of them with potholes and nobody has reported any to me. We have also not completed the project. There are four sections. We have section one from Liverpool to Beachland. Then section two from Beachland to Cele. This section has just been awarded. They have not even moved to the site. As we are speaking, it is still on the flexible pavement. That is where you see Asphalt. So if you see any failure within that area, it is because the Contractors have not worked there. Section three starts from Cele up to Anthony, which is also a rigid pavement that Dangote had worked on. Section four starts from Anthony up to Ojota. They are still working on that section. So the only area that the Federal government just awarded is that section two which is from Beachland to Cele. If you see any failure there, it is because nobody has worked there in recent time. It has been awarded by the Federal Government to the same Dangote Industry Limited which will be sub-contracted to Hitech Nigeria Limited.
Talking about Tin Can, we heard that it took so long before the contractors got on site to start the work. Why is it so?
It boils down to the attitude of our truck drivers. The contract was awarded in November 2018, and it took six months before the Taskforce and Military could be able to evacuate all the trucks that were parked haphazardly on the roads. There was no access even to the site by the Contractors. But with the cooperation of the Taskforce and Military, we were able to evacuate them and the Contractors were now able to move into the site six months after the contract has been awarded and that has eaten into the completion time. A project that supposed to be for two years and six months are wasted. Those wasted months have to be paid back. That is why the section that was awarded 2018 has not reached 100 percent completion. We are still about 87 percent now. So if we had not wasted six months, by now we could have completed the project.
So how soon will it be completed?
Due to this section two that has been awarded, it has to be completed before the Federal government will hand it over. But work is still ongoing. If you go to the road now, you will see contractors there working.
In a bid to ensure sanity, the Nigerian Port Authority introduced the e-call up system to regulate truck drivers. Are you aware of this and how can you assess the performance of the e-Call up system?
Just as a citizen of the country, I heard about it, but I was not part of the committee that midwifed the programme. The way you see it is the same way I am also seeing it. I cannot judge whether it is going well or it is not going well. It is the people that are running it that are supposed to give us assessments of whether it is meeting the desired objectives or not.
How soon should we expect a navigable road to Apapa?
We will complete that project very soon. If not for section two that has just been awarded, the completion date for sections 1, 3,4 should have been this November 2021. But with the new award of section 2 which is from Beachland to Cele, the completion date will now be the middle of next year. You know you cannot work 100 percent because of the rains. Immediately the rain is over, I think the speed at which the contractor works will increase. So by the middle of next year, we will complete the project.
Kindly like us on Facebook