·Some people say the Nigeria Shippers' Council can only bark and not bite, we don't want a dog that will bite us into a coma
In this interview with Oluyinka Onigbinde, the Chairman, Shippers' Association of Lagos State; Reverend Jonathan Nicol, speaks on sundry Nigerian maritime industry issues.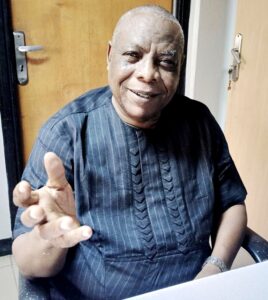 How will you rate the performance of the electronic call-up system by the Nigerian Port Authority since it started about nine months ago?
I think we judge a particular project by its results. I came all the way from Ikeja today and surprisingly the traffic was not as bad as it used to be about two to three months back. I can say there is a kind of improvement in the traffic situation of going in and coming out of Apapa for now. So I would give whoever is behind that a kind of kudos and urge them to continue to do well for the interest of everybody.
How will you rate the performance on a scale of 100?
Well, not yet 100. I will put rate them at 65 percent.
There is a report by the IMB that piracy at the Gulf of Guinea and also Nigeria has reduced drastically as compared to the last 27 years. Do you agree with this?
I tend to agree with that assessment because there is a concerted effort of different countries coming together to fight piracy within the Gulf of Guinea. We must commend all those who are involved in that particular collective decision to tackle piracy within the Gulf of Guinea. We were very much intrigued seeing the interested parties coming together, because it is coming together that brings results and we are gradually getting the results although there are still some challenges here and there. So the piracy threat hasn't been like the way it used to be and I want to commend those involved, especially NIMASA for doing a great job.
Going by the recent attack on the MSC ship at Bayelsa, can it be justifiable that the IMB report is accurate?
That is why I said human life is not connected without problems, but if you are able to solve such problems, then one will overcome the problem. It is just one out of hundreds. We cannot say because one place is porous, every other place is porous. At least it is a way of telling those involved to be more proactive enough and know that the job is not fully done.
How will you react to the recent invasion of some shipping companies by the Consumer Protection Commission?
I will say it is very unfortunate. This is because it has never happened in the history of this country before where you bring the Military to a predominantly commercial environment and for reasons best known to you, you are forcing them to do what they are not supposed to have done. So we believe it is part of the failure of the import adjustment system. If you have the economic profiles and laws in place, I don't think it will be nice if they violate those things. I think it is a collapse of the economic policy and I call on the Federal government, most passionately the economic team, to put right some of those economic issues. That will bring about sanity in the system. If that is done and we have active regulators, I don't think the government will bypass them with another agency of the government to enforce laws. It is like the government fighting against the government.
But this agency came with a valid court order?
You see, in the shipping sector, there is no problem created by man that cannot be solved by man. If you say you have an economic regulator covering a particular zone and you have complaints. What you are expected to do is to call the economic regulator and inform them of the complaints you have received and ask for their views. We think that issues should have been correctly discussed and where they fail to agree on the terms of engagements, then they can take the next step and not for government to come and invade. This is because they would not like the after-effect. In shipping and international trade, it will affect us closely. It is a trade. I have the choice to either trade with you or not. So if we continue like that, it might be difficult for our importers to even have carriers. That is our fear.
The Federal Government recently launched the eNaira. Of what impact do you think the digital currency will have on the maritime sector?
Well, it is a new concept for now. I think it will be too early to know that because we don't even know the background and why they launched it. We are still studying the situation if it is proper for us to invest in it. Probably individuals will do that but as for the money, we are still looking at the benefits because an average businessman will want to know what he is going to benefit from it. Security-wise, if the government has access to the account and starts asking questions if so much money is deposited in the account. You will see that the people will not be safe. Everybody wants a kind of security for their funds. So if that eNaira will provide such security, that will be fine and good. It is one of the good things that is coming up now in the world. We have some other electronic currencies in the world. Maybe with time, some currencies will face out and the Dollar and other currencies will begin to trade.
What impact has the federal government's ease of doing business had on the Maritime sector.
I have always agitated for the government to put in place its economic policies. Those doing business are tied to the actions of Agencies operating within the Maritime sector. If there are no clear cuts in the economic policy, import adjustment policy, or shipping policy; it is a free-for-all. People do whatever they like and you cannot hold anybody responsible for their actions. But we should be able to put all of these things right. In those days we don't normally have these issues. We do not know where we failed. It is necessary we know where we fell and change. When some of these policies are put right, every other thing will fall in place.
How will you rate the performance of the newly-appointed Executive Secretary of the Shippers' Council?
Nigerian Shippers' Council is a juggernaut. I will call it a house of solution and that is what the entity ought to be. As a matter of fact, the Federal government gave them a very big umbrella to protect stakeholders in the vast expanse of their trade environment. These umbrella needs to be protected by law. The legal framework to protect that umbrella is still not in place and if that is not in place, what do we expect to do? Some people say the Nigeria Shippers' Council can only bark and not bite and we don't want a dog that will bite us into a coma. So we look at NSC as a body that can sit down and discuss issues and amend them for the interest of the trade. If we don't have all these regulations right, then nobody is protected. NSC should be given a legal framework so that they can do their work and where they feel they are not very forceful; Shippers' are their primary part. They stand between the Shippers and the Shipping Lines. We must come together and find a common ground for us to trade in a very conducive atmosphere. So the new Executive Secretary came at a time when people were getting used to a particular system and he needs to study a whole lot of things before he can swing into action. On behalf of shippers, we have made our position that we want peace and togetherness in this sector. Don't break us into pieces. The NSC, shippers, shipping lines. terminal operators, Customs and freight forwarders belong to one family. If you break and discuss with them separately at the end of the day, there will be friction and the confusion continues. He has to make sure he pleases everybody together. That is my candid view of the Maritime sector as far as the NSC and the Executive Secretary is concerned. He should be a peacemaker.
How can you say about the Nigeria Port Authority under the present administration?
We classified the Nigeria Port Authority as the terminal operators. This is because the terminal operators are under the purview of the NPA. There is no way you can change that. They gave the expanse of their land on rent and invited some people to do what they were supposed to have done with certain rules that must be obeyed. We still believe that the NPA is very key in this arrangement especially as it relates to the terminal operators. Don't forget that the major thing that brings everybody together is the cargo and you cannot quarrel with the cargo. You cannot shut your door against the cargo. The National Body and mainstream of the Shippers' Association came together to formulate certain guidelines that will help the government in its quest for building a new port order.
Kindly like us on Facebook