The announcement by Governor Babajide Sanwo-Olu on May 18, 2023 banning okada riders in six local government arrears in Lagos state, is about the seventh time that such ban would be imposed in the state.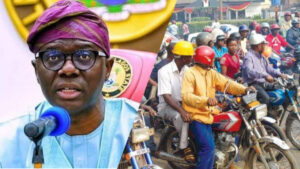 On May 18, 2022, Governor Sanwo-Olu affirmed that Okada remained banned in Eti-Osa, Ikeja, Surulere, Lagos Island, Lagos Mainland, and Apapa. The ban also extends to all LCDAs under the listed councils as well as all major roads, highways and bridges.
We recall that, the real battle against okada riders, began in 2006, when the then-Bola Tinubu government announced a restriction on the operating hours of Okada riders and banned them from operating between 7 pm and 6 am every day.
And by 2012, the Lagos State Traffic Law was promulgated and it prohibits the operations of Okada and tricycles, also known as Keke Marwa, from operating in certain routes and areas across the state.
At that time, the state government said no Okada rider must be found in areas such as Oba Akran Avenue, Bank Anthony Way, Isaac John Street, Opebi Link Bridge, Adekunle Fajuyi Way, Acme Road, Alausa, Oregun, Simbiat Abiola Way and Kodeso Road.
Also in 2017 under Akinwunmi Ambode's administration, the Lagos State Government again announced a ban on Okada activities on major highways, bridges and roads. It listed hundreds of routes where motorcycles and tricycles ​(aka Okada and Keke) ​had been banned​.
The list included major highways, bridges​, etc. in Lagos.
Again, by 2018, the state government established the Lagos State Transport Sector Reform Law 2018 (the "Law") which came into effect on the 26th of February 2018.
Specifically, Section 46 (1) of the Law stipulates that 'no person shall ride, drive or propel a motorcycle or tricycle on a major highway within the state, and any person in contravention of this provision commits an offence liable on conviction to imprisonment for a term of three (3) years with such motorcycle or tricycle forfeited to the State'.
Not reinventing the wheel, the incumbent Governor Babajide Sanwo-Olu in January 2020 proscribed operations of motorcyclists and Keke riders in six local government areas, nine local council development areas and 10 major highways across the state with effect from February 1, 2020.
It is apparent that all the proscriptions and the various laws and the creation of traffic enforcement agencies have not been able to curb the menace of commercial motorcycle business in Lagos. Rather than respond positively to the various attempts by the government, they keep multiplying.
Of special concern to us is the operation of commercial motorcycle operators in and around the port city of Apapa.
Apapa is very strategic to the economy of Nigeria; it is linked to the rest of Lagos by two major highways; the Apapa – Oshodi expressway and the Western Avenue (Funso Willaims Avenue). Of course, it can also be approached by water from Mile Two (on the mainland) and Marina (on the Island).
In recent years, commuting to and from Apapa via the two access roads has been a herculean task. The perennial traffic has made the use of okada an imperative.
Between the two ports (Lagos Port Complex and Tin Can Island Port) which are both located in Apapa, more than 65 percent of dry cargoes and about 90 per cent of the nation's liquid (petroleum products) are handled. This is because it hosts about 70 tank farms (and still counting). These are in addition to the many banks, shipping companies/agencies, licensed customs offices, factories and numerous other businesses that are located in this port city.
The above is enough reason for high commercial activities, which also draw high human and vehicular traffic.
Before the traffic menace enveloped it, Apapa used to be a thriving, attractive and very busy city, with free flowing vehicular and human traffic; this is in addition to other human endeavours that take place there. It is sad that Apapa has now turned to a failed city; a bedlam of chaos and no-go-area for many.
There have been arguments for and against the ban. Yes, but we are tilted towards supporting the action of the Lagos state government.
In a world where emphasis is on intermodal transportation, the use of commercial motorcycle has no space. In fact, the use of okada is a backward mode of transportation for any country. Nigerian should not be proud of its use, especially in a state like Lagos.
We are aware that the Federal Government is intensifying efforts to complete the Apapa-Oshodi expressway. If the ban is allowed to stay and Okada ban is enforced in Apapa, it will put more pressure on the government to speedily complete the port access road and as well reduce the uncontrolled numbers of okada-induced accidents in Apapa.
Okada has become 'the only means' of transportation so much so that a lot of people sometimes we park their vehicles at Mile 2 and use okada to go their offices inApapa".
We are not unaware that, some parts of Apapa, at the moment can only be accessed easily by the use of okada. We are also in agreement with those who have expressed fear that the ban will bring undue hardship to a lot of people,
While we appreciate the fact that there may be a bit of discomfort, we however disagree that, okada is the only means of transportation inot and out of Apapa. The last time the ban was imposed; mini buses were introduced in and around Apapa.
The ban, apart from being in tandem with the state legislation on transportation, also fits into the status of Lagos State. The fact is that, there is no developed country, where okada is a mode of commercial transportation.
Kindly like us on Facebook