The story of the National Association of Government Approved Freight Forwarders (NAGAFF) cannot be separated from the sojourn of its founder; Dr Boniface Aniebonam in the Association of Nigerian Licensed Customs Agents (ANLCA), where he served, first as Chairman of Customs Agents' Relations Committee of the Apapa chapter. He was later to be elevated; albeit in the same position at the national level of ANLCA by the then-national president; Alhaji Sani Kamba.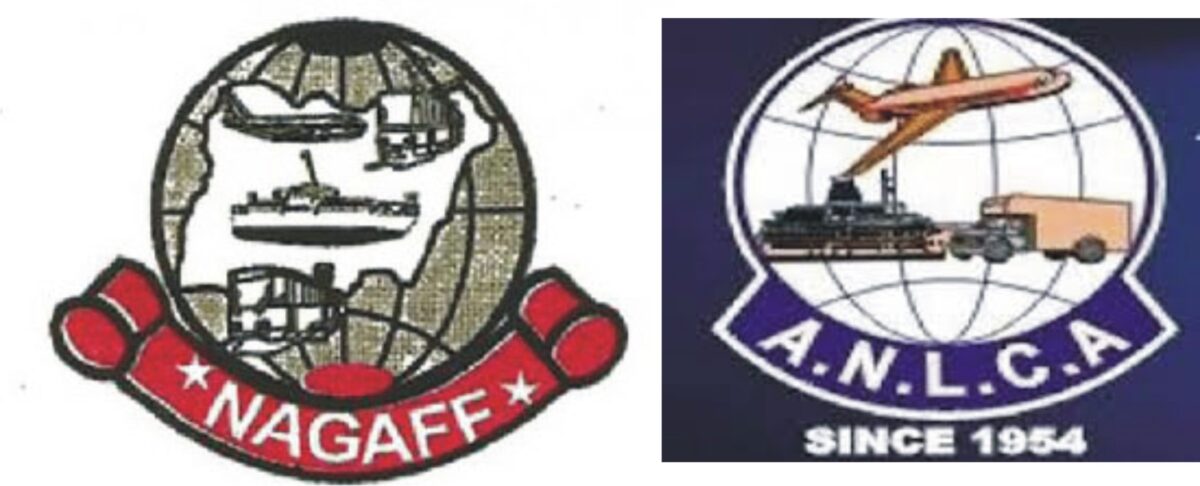 The fact is – it was from ANLCA that NAGAFF sprang out. The controversial birth of NAGAFF gave 'its mother'; ANLCA enough reasons to buckle up. Were it not for NAGAFF and the challenges it gave, ANLCA would probably have been dead by now.
The fact is that, it actually almost died until Prince Olayiwola Shittu became its National President in 2010.
With his emergence, the Association of Nigerian Licensed Customs Agents was transformed into a good example of how a freight forwarding body should be. It changed from being just an assemblage of clearing and forwarding agents into an internationally-recognised body of professionals.
But, that legacy and profile have been eroded since the new leadership emerged in ANLCA, about three years ago. The once-envied ANLCA has been embroiled in a senseless battle of ego. A battle that has seen gladiators in and out of many law courts in charge of solution.
Perhaps unknown to the fighters, the ANLCA that was built as brand for eight years and bequeathed to them has lost its glory fame and honour.
We remember quite vividly that, prior to the emergence of the Olayiwola Shittu-led national executive council; there had been pockets of events that actually threatened the association.
At a point, ANLCA was almost a dead, especially with the emergence of NAGAFF as the new brand that was ably showcased by its founder; Dr Boniface Aniebonam.
Those early years, when NAGAFF, through hard work, robust propaganda and public relations instrumentality of its founder was enjoying soaring prominence, ANLCA was being erased from prominence. Expectedly therefore, when ANLCA regained its consciousness, it saw NAGAFF as a festering sore. The two began a cold war.
This was the situation before the advent of Shittu. And after he exited, ANLCA again began its journey into oblivion, while NAGAFF regained its strength.
Whatever the relationship between ANLCA and NAGAFF was kept under wraps, until recently when the founder of NAGAFF openly insinuated that he was instrumental to some decisions that were taken by the President of ANLCA; Mr Tony Nwabunike.
Prior to Dr Aniebonam's statement the President of ANLCA had late in 2020, paid a visit to the Headquarters of NAGAFF in Lagos.
On the occasion of the visit, the President of ANLCA, had explained that the visit was supposed to afford the leadership of the two associations an avenue to sit down and reflect on their challenges and come up with a framework to tackle them.
But, the latest comment from the founder of NAGAFF did not go down well with chieftains of ANLCA, some of whom have accused their President of de-marketing and reducing the status their association by hobnobbing with NAGAFF.
While it is true that, there is trouble within ANLCA, that should not predispose it to allying with like-minds to ensure that its members get the best in terms of cargo clearance.
This is not the first time that the duo of NAGAFF and ANLCA will be collaborating. We recall that, both Prince Olayiwola Shittu and Chief Eugene Nweke worked together as presidents of ANLCA and NAGAFF respectively. That did not cause any suspicion among their members. In fact, members and leaders of the two associations hailed the collaboration as the best thing to have happened to freight forwarders.
During his visit to NAGAFF in December last year, Nwabunike had noted that the freight forwarding industry had been faced with tremendous operational problems adding that members of the two associations had been going through severe and excruciating pains getting their containers out of the port as well as putting the services of the maritime industry on notice.
He then added: "So, I felt that it is very important, first of all, to come to have a good working relationship with NAGAFF which I consider very seriously as our very best sister association in this industry".
At this point, we will like to ask: Why was it okay for Shittu to hobnob with Nweke and wrong for Nwabunike to do same. We can understand where ANLCA is coming from and why some of its leaders are skeptical. Our advice is that, rather than fret over the romance with NAGAFF, ANLCA leaders should see the development as an opportunity to sink their differences, and reclaim the association's status as the numero uno .
The truth is that, a united ANLCA and NAGAFF will further serve the interest of the average 'clearing agent'.
It worked in the past, and it can work again.
Kindly like us on Facebook