MSC mega container ship troubled off South Africa
SAR tug SA AMANDLA nearby, understood MSC TRIESTE is to be towed to Port Elizabeth South Africa, destination changed from Tema to Port Elizabeth. Present status unclear – either she's anchored or in process of preparing for towage. Cause of trouble unknown.
Nov 10 alert: MSC TRIESTE – NUC, adrift since morning Nov 10, west of Port Elizabeth, South Africa, from Singapore to Tema Ghana, ETA Nov 16.
Coastal container ship sank off Hong Kong, 70 containers afloat
Cargo ship SUIFUHANG 628 reportedly sank early in the morning Nov 8 in Shenzhen waters, while en route from Hong Kong to Foshan Guangdong, after her engine room was flooded. 7 crew rescued, some 70 containers fell overboard, endangering navigation in the area. Containers recovery operation underway.
Container ship aground, broke in two off Nakhodka
Cargo ship with container capacity RISE SHINE drifted aground and broke in two in the morning Nov 9 in Vostok Bay west of Nakhodka, Russia, Japan sea, in stormy weather. The ship issued distress signal at 0602 LT (UTC +10) Nov 9. Understood the ship arrived at Vostochniy Port from Busan, moved to Vostok Bay to shelter from storm, but couldn't hold on against wind and seas. 14 crew, all Chinese, said to be safe, they were still on board as of 0300 UTC Nov 9. SAR tug LAZURIT already left Vladivostok, arriving on site soon.
UPDATE: The ship didn't break in two, though there are cracks in hull, and engine room is flooded. All 14 crew evacuated by helicopter, all are safe. There are 199 containers on board loaded with consumer goods, such as auto spare parts, printers, vacuum cleaners, diapers, etc. Confirmed the ship moved to Vostok Bay from Nakhodka Bay to wait out storm. SAR tug LAZURIT s nearby, waiting for weather to improve. Ship's AIS missing during last 12 hours as of 1430 UTC Nov 9.
General cargo ship beached by storm, Vietnam
General cargo ship VISSAI VCT 12 drifted aground on Cua Lo beach, Nghe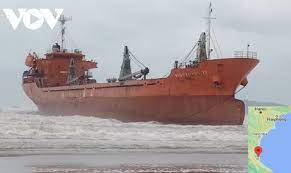 An province, Gulf of Tonkin, Vietnam, in the morning Nov 8, in adverse weather conditions. The was at anchor when storm struck, engine was started, but the ship couldn't stand against wind and sea, and drifted aground. Understood she arrived at Cua Lo anchorage from Ho Chi Minh.
Chinese bulk carrier with cargo emitting toxic fumes relocated, South Africa
Chinese bulk carrier NS QINGDAO had to be relocated from Durban South Africa, after her bulk cargo of chemicals started to emit toxic fumes. According to South African Maritime Safety Authority SAMSA, cargo became unstable after it became wet during discharge operation in rainy weather. The ship sailed from Durban, Indian ocean, to St Helena Bay anchorage, Atlantic ocean coast of South Africa north of Cape Town. The cargo is to be offloaded into lighters, neutralized and after that, stored on shore. The ship arrived at Durban from Gwangyang Korea on Oct 14, left Durban on Oct 27 and arrived at St Helena Bay, Namaqua, on Nov 8,where she remains anchored, with offshore tug on a standby. A team of salvors, chemicals and hazmat experts is deployed.
Tanker carrying palm oil ran aground, refloated, Indonesia
Product tanker SAMUDRA SINDO 38 loaded with palm oil ran aground on pre-cov era tourist attraction, Tanjung Keluang Beach, Tanjung Keluang natural park, southern Kalimantan, Indonesia, at around 1400 UTC Nov 6, while en route from Kumai Kalimantan, to Surabaya Java. Tanker refloated, by own means with high tide, or with tug assistance, in the evening Nov 8, and resumed voyage. No ecological catastrophe reported, Kalimantan and planet still alive.
Kindly like us on Facebook