German juice carrier fire at Santos, Brazil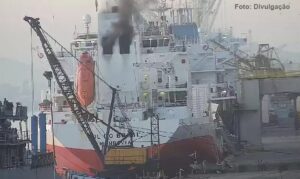 Fire erupted in engine room of refrigerated juice carrier SOL DO BRASIL at Santos, Brazil, in the morning Jun 6. Fire engines were deployed, fire was taken under control, but fire fighters remain on board to monitor situation and investigate the cause. SOL DO BRASIL arrived at Santos on Jun 4 from USA, to load citrus juices.
Container ship fire, Turkey
Fire erupted in cargo hold of container ship SL TWEETY on Jun 6, shortly after the ship left Mersin Turkey, eastern Med, bound for Kumport Turkey, Marmara sea. Fire reportedly was extinguished or taken under control by the crew, SL TWEETY had to interrupt voyage and anchor at Mersin anchorage, requesting assistance. As of Jun 7, the ship remained anchored, but with no tugs or emergency boats nearby, so fire is understood to be extinguished. Most probably, fire erupted in containers or containers, damaging some containers and cargoes. SL T
Passenger ship explosion fire: 1 dead, 1 missing, 4 critical at Singapore Strait
Passenger ship DUMAI LINE 5 early in the morning Jun 9 suffered explosion followed by major fire in front of Batam Port, Riau islands, Indonesia, Singapore Strait. Understood there were no passengers on board, the ship was probably at anchor (last AIS dated Jun 7). 1 crew died in explosion, 1 jumped overboard after explosion and went missing, 4 were badly burned, they're in hospital in critical condition. Loud bang from explosion was heard ashore, scaring locals. Fire which followed the explosion, engulfed most part of the ship, she'll probably, burn out.
Russian bulk carrier reappeared on AIS after mysterious 9-day gap
Bulk carrier MATROS KOSHKA, blamed by Ukraine in transporting grain stolen from Ukraine, popped up on AIS radar on Jun 9, after 9-day period of AIS switched off, from May 30 until Jun 9. Ship's AIS track and records confirm Ukrainian suspicions. Obviously, during 9-day period of being off the radars, the ship called unidentified port to offload cargo, most probably Syrian port.
Previous track and records confirm another Ukrainian allegation, that MATROS KOSHKA and other bulk carriers, involved in suspiciously looking voyages, including MATROS POZYNICH, covertly loaded grain in Sevastopol, Crimea. Sevastopol is a Naval Base first of all, not to mention its' geographic location, making it inconvenient for transshipment of Russian grain.
Have a look at ship's track in Black sea, where she loaded cargo of grain, allegedly (according to AIS records) in Kavkaz Port, Kerch Strait. She couldn't load shipment of grain in just one day, but there's a gap in ship's Black sea sailing track and records, lasting from May 18 until May 24. It speaks for itself.
Kindly like us on Facebook