General cargo ship sank in Taiwan Strait, Fujian Province
General cargo ship YU SHENG 788 sank in Fujian Province water in Taiwan Strait on Nov 30, being caught in rough weather. 13 crew were rescued in challenging conditions by nearby cargo ship. YU SHENG 788 was en route from Xiamen to Shantou.
11000-TEU German container ship disabled, under tow in Biscay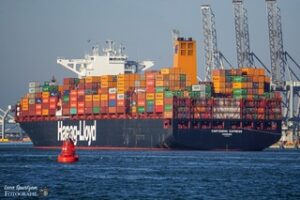 Container ship CARTAGENA EXPRESS suffered engine failure in the morning Nov 27 54 nm W of Ushant, France, western English Channel. The ship en route from Antwerp to Caucedo Dominican Republic, started to drift. SAR ship ABEILLE BOURBON responded, CARTAGENA EXPRESS was taken on tow to be towed to Brest, ETA Nov 29. Towage commenced in the afternoon Nov 27, caravan under way as of 0600 UTC Nov 28, some 65 nm off Brest.
Russian sailor lost right arm, Gulf of Siam
A 47-year-old Russian crew member of container ship LADY OF LUCK lost his right hand in job accident on Nov 26, the ship was already under way in Gulf of Siam, en route from Laem Chabang to Singapore. LADY OF LUCK interrupted voyage and closed Songkhla Province coast, southeast Thailand, requesting medical assistance. Sailor was safely medevaced and transferred to hospital, LADY OF LUCK continued her voyage
Vehicle carrier sank after collision, Indonesia
Vehicle carrier SERASI I collided with general cargo ship BATANGHARI MAS at around 0200 LT (UTC +7) Dec 1 in Bangka Strait, Bangka Belitung Islands, while on scheduled trip from Patimban northwest Java to Belawan, North Sumatra. SERASI I hull was breached with massive water ingress, Captain issued distress signal and ordered crew to leave the ship. All 17 crew were rescued by nearby vessel, all are safe. SERASI I has reportedly, sank, or was sinking, as of 1245 LT.
shippingposition
Kindly like us on Facebook/twitter