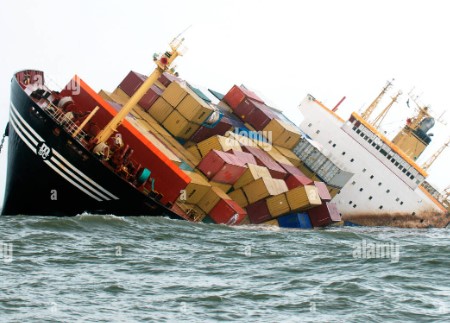 Cargo ship capsized in NW Borneo waters, all crew missing
Cargo ship TUNG SUNG capsized in the morning Jul 20 near Kuching, Malaysia, northwest Borneo. Understood all crew are missing, exact number unknown, at least 9 people. No more details available at the moment.
Container ship capsized after collision off Ningbo, dozens of containers in water
Container ship XIN YUAN LONG 6 collided with sand carrier (no details) in the morning Jul 17, shortly after leaving Ningbo, China. Sand carrier sank. XIN YUAN LONG 6 suffered hull breach or breaches, developed heavy portside list and capsized, with at least 40 containers falling into water. Salvage operation under way with several SAR ships and tugs deployed, container ship crew evacuated. Understood the ship though partially submerged, is still afloat. XIN YUAN LONG 6 was en route from Ningbo to Xiamen
Turkish freighter aground in Kattegat
General cargo ship DEFENDER ran aground east of Aarhus in Kattegat, in Danish waters, at around 0440 UTC Jul 18. The ship sailed into shallow waters with depths less than ship's draft, and she looks to be hard aground, because she ran aground at full speed. DEFEBDER is en route from S-Petersburg to Sibenik Croatia. Still aground as of 1830 UTC Jul 2, awaiting salvage.
MAERSK 15,000 TEU container ship broke off moorings at Koper, Adriatic
Container ship MAERSK HOUSTON broke off her moorings at Koper Port, Slovenia, late at night Jul 19, when strong wind with gusts up to 130 kilometers/hour struck Koper and port. The ship started to drift towards passenger terminal, situated across the basin. Luckily, tugs quickly responded, and container ship was taken back to berth, with minimal damages.
Container ship at Kaohsiung anchorage sank, hundreds of containers afloat
Container ship ANGEL capsized and sank in the morning Jul 21, leaving on the surface hundreds of floating containers.
Container ship ANGEL alerted Kaohsiung port authorities, Taiwan, at around 0930 LT Jul 20, reporting water ingress and heavy portside list. It was decided to evacuate all 19 crew, they've been transferred to port. Several containers, reportedly empty, fell overboard, respective navigational warning was circulated. As of 1420 LT Jul 20, ship's AIS was on, so she didn't capsize. Salvage is already under way with several tugs involved.
Container ship ANGEL with 1349 containers on board arrived at Kaohsiung waters on Jul 2 from Dalian, was anchored at outer anchorage on Jul 4.
Follow us on Facebook/ twitter