Chlorine gas tank fell on Chinese cargo ship, 10 dead 251 injured, Jordan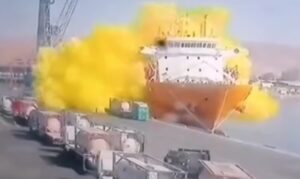 Tank with 25 tons of chlorine gas fell onto cargo deck of brand-new deck cargo ship FOREST 6 at Aqaba Port, Jordan, on Jun 27, during loading operation. Tank was damaged, a big thick orange cloud of gas covered the ship and pier alongside. At least 10 people died, and 251 were injured. Local residents are asked to stay at home and close windows, emergency team or teams are responding. FOREST 6 arrived from Djibouti on Jun 27, she was to call Djibouti after Aqaba with cargo loaded at Aqaba, including chlorine gas tank. Last AIS signal dated 1740 UTC Jun 27.
Fire in bulk carrier cargo hold, Florida
At around 2350 LT Jun 26 firefighters responded to fire in cargo hold of bulk carrier AMBER STAR, docked at Fernandino Port, Florida. Fire erupted in hold number five with cargo of plywood being offloaded at port. 35 firefighters were deployed, fire was extinguished by 0600 LT Jun 27. Extent of da
Heavy vehicle fell onto cargo deck during offloading, Chile
Heavy machinery vehicle (probably mobile crane or excavator) fell onto cargo deck of bulk carrier HG PERTH during offloading, on Jun 26, at Terminal Two, Valparaiso, Chile. Vehicle reportedly, wasn't secured by leading lashes and because of that, lost balance, flipped over and fell. Nobody was injured, ship's cargo deck and vehicle sustained damages. HG PERTH arrived on Jun 25 from China, via Salvador.
195 cars including Mercedes gutted by fire on dhow, Dubai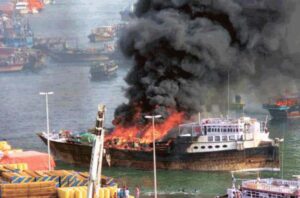 Local cargo ship of apparently, dhow type, loaded with 195 cars including or mostly, Mercedes, was engulfed in flames in Dubai port on Jul 1. The ship MUHIEDDIN (?) was to set sail for Nishtun Port, Yemen Gulf of Aden. Dhow is owned by an Indian, the cargo of cars belongs to Yemeni merchants. No data found in AIS or other databases, dhow most probably, is registered only with regional authorities, not intl registries or databases.
Cruise ship NORWEGIAN SUN hit iceberg, damaged, bound for repairs
Cruise ship NORWEGIAN SUN hit an iceberg size of grand piano on Jun 25 off Hubbard Glacier, Gulf of Alaska, and is understood to suffer hull breach and probably, other damages. The ship called Juneau, maybe to disembark passengers, and left Juneau afterwards, bound for Victoria BC, ETA Jun 30.
Small iceberg was hit in dense fog, almost no chance of spotting it visually (providing ship's command kept lookout watch on f'castle), while all the electronic wizardry is as good as useless. A pair of human eyes, armed with binoculars, is still irreplaceable, at least under some circumstances.
Kindly like us on Facebook