13.12.2021: 0100 UTC: Posn: 00:18.31N – 009:24.03E, Owendo Anchorage, Gabon.
Duty crew on routine rounds onboard an anchored offshore supply ship noticed an unauthorised person moving the barbed wires to make way for his accomplices who were armed with AK-47 rifles. Alarm raised crew mustered in the citadel. Port Authority was informed, and the Gabon Authorities boarded the vessel to investigate.
13.12.2021: Posn: 03:11.42N – 007:49.02E, Around 46nm SW of Luba, Equatorial Guinea.
A container ship underway was boarded by an unknown number of pirates. The Danish Navy warship was notified and proceeded to render assistance. The pirates escaped with six kidnapped crew. It is reported that one crew was injured during the incident.
Chinese freighter sank in Yellow sea, 4 dead 7 missing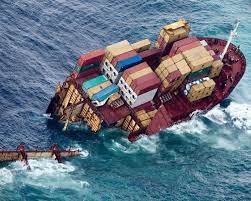 Cargo ship TIAN FENG 369 issued distress signal at 0443 Beijing time Dec 12 in Yellow sea 30 nm NE of Yantai, Shandong province, China, reporting sinking, 14 crew abandoning the ship Beihai MRCC launched SAR, hampered by stormy weather. Of 14 crew, 3 were rescued, 4 recovered dead, and 7 are still missing. The ship was en route from Uangmadao, northeast Yellow sea, China, to Yantai.
Tanker blocked Bosphorus for about an hour
Chemical tanker AHMET TELLI suffered engine failure at around 0745 UTC Dec 15 below Yavuz Sultan Bridge, Istanbul, while transiting Bosphorus in southern direction, en route from Constanta Romania to Izmit Turkey, and was emergency anchored, in traffic lane, so all traffic was blocked for probably an hour, then one-way traffic was resumed, and at 0950 UTC tanker resumed transit, allowing traffic to resume in full. It is said, that she was towed, but according to track, she completed transit under own power, and was anchored at Ahirkapi anchorage, Istanbul, Marmara Sea.
Chinese container ship collided with Korean fishing vessel, 2 missing
Chinese container ship HENG YU collided with Korean 129-ton fishing vessel some 50 nm southwest of Yeosu, Korea, East China sea, in the morning LT Dec 14. Understood fishing vessel sank, of 27 people on board 25 were rescued, 2 remain missing, SAR underway. HENG YU is en route from Gwangyang, Yeosu, to China, she stopped after collision, probably to be ordered to return to Korean waters for investigation.
General cargo ship heavily listed, abandoned, South China sea
General cargo ship MING YUE 69 loaded with 3517 tons of fiberboards (MDF), suffered stability loss early in the morning LT Dec 14 northeast of Van Phong Bay, central Vietnam south, and developed heavy portside list. Accident was caused by cargo shift. The ship issued distress signal, Master ordered 17 crew to abandon MING YUE 69, and they went into two life rafts. Later all were rescued, all are safe. Drifting ship was taken on tow by tug and towed to Van Phong Bay, Khanh Hoa, where she was anchored, awaiting further salvage. The ship is en route from China to Dong Nai province, Vietnam, last AI
Kindly like us on Facebook