Italian tug sank in Adriatic sea, 5 dead and missing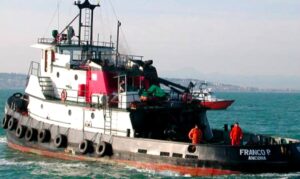 Tug FRANCO P with 6 crew sank in the evening May 18 in Adriatic sea off Italian coast, while en route from Ancona to Bari, Italy, towing pontoon with 11 people on board. Tug sank in a very short time some 50 nm off Bari coast, only tug Captain survived disaster, of 5 other crew 2 are still missing, 3 bodies were recovered. Pontoon with 11 people on board was later towed to Bari, all people are safe.
Passenger ship with more than 600 people aground, Indonesia
Passenger ship KM SIRIMAU with more than 600 passengers on board ran aground in Savu sea, Timor Leste, Indonesia, on Meko island between Lembata and Adonara islands, in the afternoon May 17. Evacuation of passengers was complicated by low tide, understood most part of passengers was already evacuated by morning May 18. There's no obvious danger for those who remain on board. The ship os connecting islands and ports of southeast Indonesia and Papua Guinea.
Cargo ship with 1,600 tons of wheat sank in Meghna estuary, Bangladesh
Lighter ship TAMIM loaded with 1,600 tons of wheat, on May 18 sank in the estuary of Meghna in Lakshmipur, Bangladesh, after hitting underwater object. The ship rested on bottom of sea canal with superstructure remaining above waterline. All 12 crew were rescued. TAMIM was transporting wheat to Nabil Auto Flour Mill in Narayanganj, wheat was offloaded, reportedly, from bulk carrier PROPEL GRACE (IMO 9605023), anchored at Chittagong Anchorage since May 4. Bulk carrier arrived from India, so most probably, wheat is of Indian origin, loaded prior to wheat export ban in India.
Dutch and German cargo ships collision in Lower Weser, both damaged
General cargo ships WALTER HAMMANN and DAGNA collided at around 0010 UTC May 15 in Lower Weser upstream from Nordenham, Germany Dutch freighter DAGNA was sailing upstream, to Brake, while German coaster was sailing downstream, from Bremen. Both ships reportedly suffered serious damages and are in need of repairs – WALTER HAMMANN sustained bow breaches or deep dents; starboard hull of DAGNA also sustained breaches or dents. WALTER HAMMANN said to struck DAGNA stb at about 90 deg angle. No water ingress, no leaks reported. WALTER HAMMANN reportedly, is already docked at Bremerhaven ship repair yard. DAGNA reached Brake, and after completing cargo operation also sailed to Bremerhaven, she was docked there on May 17.
Ferry with 332 passengers ran aground at Chios harbor, Greece
Ferry NISSOS SAMOS with 332 passengers and more than 200 vehicles on board drifted aground in Chios harbor, Chios island, Greece, in the morning May 19. Ferry failed to moor on arrival from Piraeus due to strong wind, and had to drop anchor, but at around 0500 LT drifted aground in harbor. Ferry was refloated some four and a half hours later with tug's assistance, and has been safely berthed. Ferry is to undergo inspection prior to be allowed to resumed scheduled voyage.
Kindly like us on Facebook