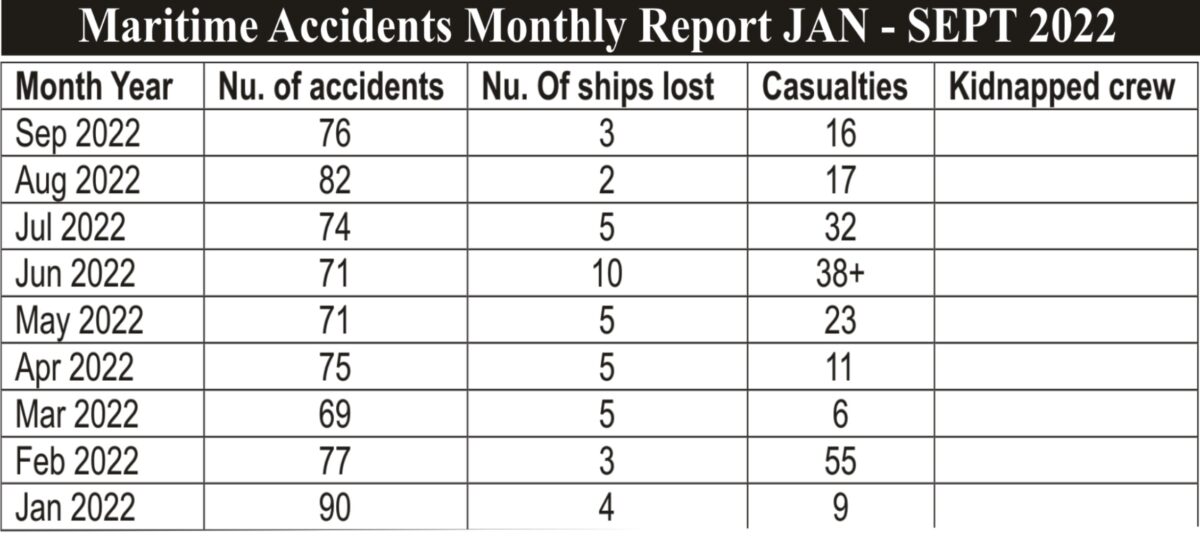 Vietnamese general cargo ship sank off Hai Phong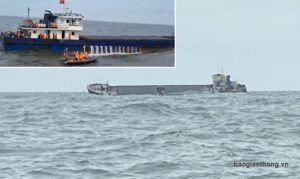 General cargo ship THANH DAT 18-BLC sank on Oct 2 some 12 nm SE of Hai Phong, Vietnam, Gulf of Tonkin. Ship's superstructure including upper deck is partially above waterline. Wreck position is marked with buoy. Understood crew are safe, the ship was approaching Hai Phong en route from Phu My, southern Vietnam. Most probably, the ship was caught in typhoon.
2,000 TEU container ship major fire
Rumors were that container ship TSS PEARL was on fire or disabled by fire in Red sea. Ship's last AIS was around 2000 UTC Oct 5, ship was already adrift. She's en route from Jeddah to Aden, ETA Oct From the look of her, ship is suffering a major fire which erupted in containers, with thick black smoke billowing from burning containers, superstructure is engulfed in smoke and probably, fire, and is obviously uninhabitable. All 25 crew abandoned the ship and were rescued, understood by passing tanker. Later they've been taken by Saudi Arabia CG and disembarked at Jazan Port, Saudi Arabia, all are safe. Ship's AIS is off – no wonder here. Passing ships in the area give burning ship's location a wide berth, understood avoiding possible toxic smoke, fumes and explosions.
Freighter collided with fishing boat, Norway
General cargo ship EDMY collided with Norwegian fishing boat Tornado at around 0600 UTC Oct 4 SW of Larvik, Norway, shortly after leaving Larvik. Fishing boat sustained serious damages, but remained afloat, nobody was injured. EDMY returned to Larvik and was berthed. She's bound for Copenhagen, understood she sustained minor damages, like scratches and dents.
General cargo ship bound for Russia disabled in Bosphorus
General cargo ship T-MOON suffered engine failure in Bosphorus at around 0240 LT Oct 5 near Yavuz Sultan Bridge, while transiting the Strait in northern direction, en route from Tuzla to Novorossiysk. Traffic Control Center tug responded, the ship exited Bosphorus and was anchored at Turkeli Anchorage, Black sea. As of 1100 LT remained anchored. caught in typhoon.
Kindly like us on Facebook/twitter