Odfjell tanker crew died, allegedly from COVID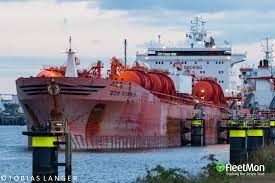 Chemical tanker BOW SUMMER arrived at Antwerp anchorage in the evening Oct 10 from Durban South Africa, with a short stop at Las Palmas Canary island, on Oct 5-6 (Bunkering, re-supplies, crew change?). Tanker remained at anchor until Oct 15, when she was berthed at BASF Terminal in Antwerp. One crew died on Oct 18, allegedly (officially) from covid. 13 out of 26 crew were positive tested, and have been placed in shore quarantine facilities. Odfjell confirmed the death and mass positive testing to Belgium industry magazine Flows, and said it will replace the crew.
What is it exactly seaman died from? Was he jabbed? When and with what? What about the rest of the crew, their jab status, their health?
Fire on cargo deck extinguished by crew, Malacca Strait
General cargo ship DOREEN on cargo deck in the afternoon Oct 17 at Sundai Pakning anchorage, Pakning river, Riau, Indonesia, Malacca Strait. Reportedly fire was caused by a shortcut in hatch cover hydraulic mechanism, extinguished by crew using extinguishers, in a short time. No serious damages reported. The ship is anchored since Oct 6, on arrival from Koh Sichang anchorage, Thailand.
Dutch freighter sailed straight onto Bornholm coast, Baltic sea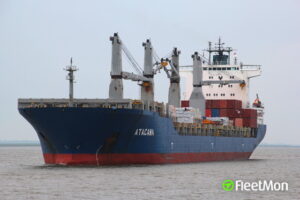 General cargo ship BEAUMAIDEN with cargo of fertilizers ran aground some 300 meters off western coast of Bornholm island, Denmark, Baltic sea, at around 0100 UTC Oct 18, while en route from Antwerp to Estonia. From the looks of track, the ship sailed straight towards coast, she didn't change the course when she should, most likely because bridge watch fell asleep, it doesn't look like there was some kind of mechanical failure taking ship out of control. No breaches reported, no spill. Refloating attempts under way.
Turkish freighter on fire in Croatian port
Scrap metal in cargo hold of Turkish general cargo ship M V MEHMET UNLU caught fire in the evening Oct 20 at Ploce port, Croatia. M V MEHMET UNLU is loading cargo of scrap metal at Ploce since Oct 19, understood it was self-inflammation. Firefighters were called at around 2100 LT, 5 engines were deployed, partial offloading required to get to the epicenter of fire. Understood as of 0100 UTC Oct 21, firefighting still was on.
Kindly like us on Facebook