Third Officer found hang in thruster room of tanker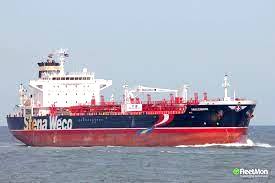 Information was provided to MB by the insider regarding the tragic death of Third Officer of tanker SHANDONG ZIHE, on Oct 1, while tanker was en route to Banco Del Hoyo Anchorage W of Gibraltar Strait, from ports of Gulf of Guinea. He didn't show up to replace CO for dinner, general alarm was sounded and crew mustered for his search. At 1900 UTC he was found hanging in bow thruster room, Cardiac Resuscitation CPR was applied, later he was transferred to infirmary, understood still alive, but at 2047 UTC he was declared dead by Telemedical Maritime Assistance Service TMAS, which was called immediately after he was found. His body was taken to freezer, tanker meanwhile, continued voyage. She arrived at Europa Point Gibraltar on Oct 3, and as of evening Oct 4 remained anchored.
No clarity yet as to the cause of his death, which as of now, looks like a suicide. He was 24-years old, of Indian nationality, he boarded tanker in the end of Aug in Lome, Togo.
Freighter bridge crashed in collision, Captain killed, France
General cargo ship ANDRE MICHEL 1 collided with canal bridge in Mondragon-Donzère canal, Rhone, in the evening Oct 2, while proceeding upstream. Bridge was completely destroyed in crash, Captain who was on the bridge, probably alone, was killed. The ship was berthed along embankment after accident, AIS is off since accident date.
According to French media, the French pilot was killed. Seven Ukrainian crew escaped, nobody was harmed. Telescopic bridge wasn't lowered, accident under investigation.
Panamax bulk carrier in danger of capsizing salvaged, China
Bulk carrier ZHONG AN YANG with 55,000 of technical sand on board, hit a reef some 5 nm south of Nanri island, Putian waters, Fujian Province, China (northern Taiwan Strait), in the afternoon Oct 3, sailing in northern direction en route from Quanzhou. Hull was breached in seemingly, fore cargo hold or holds, portside, with ensuing water ingress. Bulk carrier developed some 10 degrees portside list, and issued distress signal. SAR boat was dispatched to assist, at one time it was planned to ground the ship on Nanri coast, to avoid capsizing, but measures taken to stabilize the ship were effective enough to consider her comparatively stable and safe, to reach anchorage. Professional salvage responded and carried out underwater salvage works and survey. ZHONG AN YANG safely reached Putian port and was berthed at Quangang, in the afternoon Oct 4.
Kindly like us on Facebook