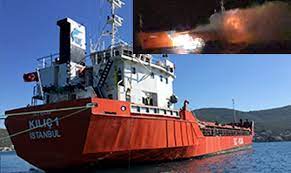 Turkish freighter disabled after fire in Greek waters
Fire erupted in engine room of general cargo ship MONA at around 1420 UTC Sep 14 in Aegean sea, off Chios island western coast. Fire was extinguished by the crew, no injuries reported, but the ship couldn't continue her voyage from Ashdod to Tuzla, and had to be anchored in front of Agio Gala village, Chios. Was in the same position as of 0510 UTC Sep 15, extent of damages and her present condition unknown. She might continue voyage under own power, or require towage.
Chinese freighter heavily listed in Yellow sea, abandoned
Cargo ship XIN YUAN ZHOU issued distress signal in the morning Sep 14 in Yellow sea, some 75 NE of Shanghai, reporting heavy stb list. 13 crew went into life rafts, they've been rescued by SAR ship DONG HAI JIU 118. Understood the ship, while en route to Rizhao, was overwhelmed by stormy seas brought by typhoon MUIFA. Last AIS position was at around 0340 UTC Sep 14, her condition and status as of 1540 UTC, are unknown. Looks like she was disabled and dropped anchor.
Feeder collided with dredger, Brunsbuettel, Kiel Canal
Container ship HEINRICH EHLER collided with dredger SCHELDEOORD in Brunsbuettel near Northern Lock on Sep 12. Dredger reportedly, was seriously damaged. Feeder resumed transit later same day, completed transit and as of Sep 13 was sailing in Baltic sea, soon to arrive at port of destination Gdansk.
Container ship HEINRICH EHLER, IMO 9372200, dwt 17819, capacity 1425 TEU, built 2008, flag Portugal, manager EHLER REEDEREI.
Dredger SCHELDEOORD, MMSI 244780958, GT 657, built 2013, flag Netherlands.
Kindly like us on Facebook/twitter