28.06.2021 & 30.06.2021: 2100 UTC & 0530 UTC: Posn: 12:01S – 077:13W, Callao Anchorage, Peru.
A product tanker was boarded by robbers twice while at anchor. Ships spares reported stolen. Incident reported to port authority.
29.06.2021: 1620 UTC: Posn: 01:16.1N – 104:14.10E, Singapore Straits.
Duty engine crew onboard a bulk carrier underway noticed four robbers in the engine room and notified the bridge. Alarm raised and crew mustered. Seeing the alerted crew, the robbers escaped with the stolen engine spares. Incident reported to VTIS.
Mass crew sickness, 5 hospitalized
Bulk carrier NORD SUNDA had to call Le Havre France on Jun 30, understood being in medical emergency. The ship was en route from Buchanan Liberia to Dunkirk France with cargo of iron ore, and most probably, she either asked for medical assistance or reported covid-like symptoms among crew. The ship has been boarded by team of French Navy paramedics, and test were taken. 16 crew tested positive, 5 of them in need of hospitalization. Bulk carrier was diverted to Le Havre, where she berthed at around noon Jun 30. 5 seamen were taken off board in accordance with safety protocol, so evacuation resembled the offloading of highly radioactive exposed material, more than the treatment of human beings. Understood majority or all crew are of Filipino nationality. Who knows what's all about.
Ferry with 57 people on board sank in Bali waters, Indonesia VIDEO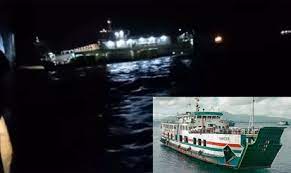 Ferry KMP YUNICEE capsized and sank in port of Gilimanuk waters, Bali island, Indonesia, at around 1912 LT (UTC +8) Jun 29, shortly after arrival from Ketapang, Java. Understood ro-ro ferry developed list, probably due to cargo (vehicles?) shift. No information yet on casualties/injures, if any. The ship with 15 crew was carrying 42 passengers. As of 1430 UTC, SAR was still under way.
Disabled German freighter taken on tow off Cape Town
General cargo ship UNISPACE was disabled and started to drift towards Danger Point Lighthouse, South Africa south of Cape Town, in the evening Jun 30, while en route from Namibe Angola to Durban. According to AIS track, the ship anchored off Danger Point to avoid further drift in rough weather, in dangerous proximity to coastline. SAR tug SA AMANDLA (IMO 7385215) took UNISPACE on tow at around 0600 UTC Jul 1, understood she's to be towed to Cape Town.
Cargo ship fire, La Coruna, Spain
Fire erupted in superstructure of general cargo ship URA, berthed at La Coruna, Spain, in the afternoon Jun 29. The ship arrived from Bayonne France on Jun 27, with cargo of steel billets. Understood firefighting was still continuing, as of 1220 UTC Jun 29, with tugs and SAR boat at URA side. City engines are also engaged. Fire reportedly, was caused by wielding works, one person with smoke inhaling was medically assisted.