Bulk carrier collided with fishing boat, 1 dead 2 missing, China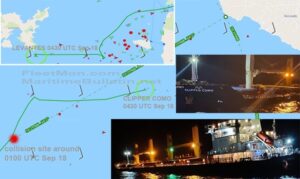 Bulk carrier XIN HAI ZHOU 26 collided with Chinese fishing vessel in East China sea some 30 nm SE of Zhoushan, China, in the evening Sep 22, while en route from Ningbo-Zhoushan to Soviet Gavan, Russia. Fishing vessel sank, of 7 crew on board 4 were rescued, 1 recovered dead, and 2 are missing. XIN HAI ZHOU 26 was ordered to anchor near collision site, understood for investigation.
MSC 12,500 TEU ship out of service schedule, 15-day quarantine
Container ship MSC LAUREN was put under quarantine upon arrival at Callao anchorage, Chile, on Sep 21, after 1 (one) crew showed positive test. The ship arrived from Peru, she's deployed in Andes Service between Asia and the West Coast of Latin America. MSC, reportedly, already notified its' clients about the mishap, saying that all the cargo will remain on board until quarantine expires.
Danish cargo ship suffered cargo shift, list, had to shelter in Iceland waters
Refrigerated cargo ship ULLA reportedly suffered cargo shift, being caught in stormy weather, on Sep 22 in waters between south Iceland and Westman islands, Iceland, while en route from Keflavik Iceland to Thyboron, Jutland, Denmark. The ship reported developing list, turned to nearest shelter, Vestmannaeyjar Westman islands, and arrived there same day with some 10-15 deg list, escorted by offshore patrol tug THOR and harbor tug.
Kindly like us on Facebook