Maritime Accidents Monthly Report NOVEMBER 2021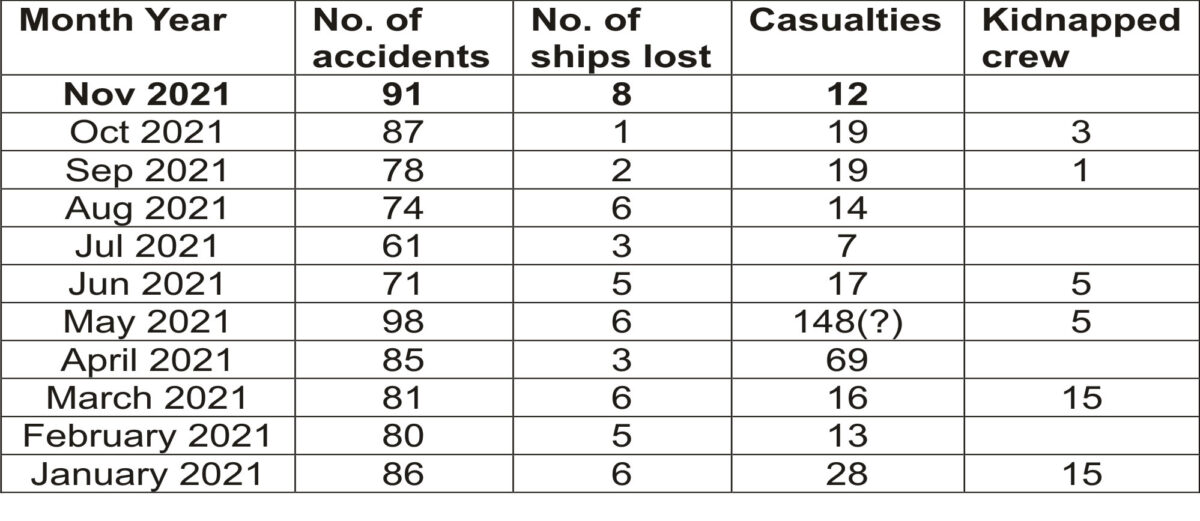 Comms lost with cargo ship in stormy Japan sea, search for 17 crew
Confirmed its HOUEI CRYSTAL17 crew were reportedly rescued, 1 crew was washed overboard by wave before the ship was caught in distress situation.
Panama-flagged cargo ship issued distress signal in Japan sea some 250 nm south of Nakhodka, Russia, in the evening Dec 1, reporting sinking, 18 Vietnamese crew going into lifeboat. After that, all communications with the ship were lost. Russian cargo ships in the area, in severe storm conditions and most probably, icing taking place, search for lifeboat. Ship's name wasn't disclosed, but according to available information, it is most probably, general cargo ship HOUEI CRYSTAL, which left Nakhodka on Nov 30, last AIS dated 0700 UTC Dec 1.
MSC container ship crashed into pier in Istanbul
Container ship MSC ALICANTE broke off her moorings and started to drift, her stern crashed into pier, on Nov 29, at Ambarli port, Istanbul, in strong wind. As of 1230 UTC, the ship is understood to remain stuck in pier, judging from her position. No information yet on damages.
Three ships victims of storm over Istanbul
Three general cargo ships, understood two being in lay-up or repairs and one decommissioned, all three berthed at Tuzla, Marmara sea, Istanbul area, were damaged by severe storm, on Nov 29 or Nov 30. UMIT K sank, UMUT broke off moorings and drifted onto UMIT K wreckage, BORAS (reportedly decommissioned) also broke of moorings and either drifted aground was stuck near pier, developing starboard ist. Understood all three ships are unmanned.
Kindly like us on Facebook