Korean pusher tug sank in Taiwan Strait, 6 crew missing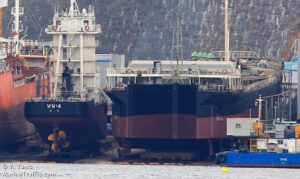 Pusher tug KYOTO 1 issued distress signal on Apr 7 between Penghu islands and western Taiwan coast, Taiwan Strait, while pushing barge from Busan to Batam Indonesia. Understood all crew, 6 seamen, are missing, SAR under way. According to latest updates, tug sank.
Cargo ship sank after collision with container ship, Vietnam, 1 crew missing
Container ship VINAFCO 28 collided with cargo ship TRUONG NGUYEN 136 off Tam Quan, central Vietnam, South China sea, at around 0430 LT (UTC +7) Apr 7. Container ship is en route from Haiphong to Ho Chi Minh, cargo ship was en route from Hon La to Can Tho, loaded with 4320 tons of clinker. TRUONG NGUYEN 136 sank after collision, of 10 crew on board 9 were rescued by VINAFCO 28, 1 went missing, local fishermen joined SAR and continue search. VINAFCO 28 sailed to Qui Nhon and anchored there.
General cargo ship fired upon in Mariupol, 1 crew injured, fire
General cargo ship AZBURG, berthed at Berth 16 in Mariupol Port, Ukraine, Azov sea, was fired upon by reportedly, Russian military, at around 2240 LT Apr 4. Character of firing unknown – whether it was shelling, bombing or the ship was hit by missile. The hit or hits, caused fire in engine room, of 12 crew 1 was injured. No updates, additional info, as of morning Apr 5.
The ship arrived at Mariupol on Feb 23 from Burgas Bulgaria, with cargo of containers.
Two accidents, in and near Bosphorus, Istanbul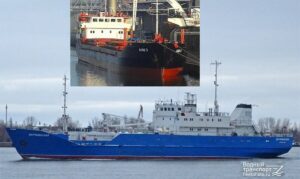 Bulk carrier JOSCO TAICANG ran aground in southern Bosphorus, Istanbul, while maneuvering to berth at Haydarpasa, Istanbul, at around 0730 UTC Apr 4. The ship, with tugs assistance, was refloated at around 1250 UTC, according to track, and moved to Ahirkapi Anchorage, Istanbul, Marmara sea. No leaks, no breach reported. Bulk carrier arrived at Istanbul from Singapore. Traffic wasn't affected/
Product tanker BOURDA suffered engine failure while approaching Bosphorus in Black sea, en route from Novorossiysk, Russia, at around 0800 UTC Apr 4. Tug was sent to assist, as of 1530 UTC tanker was off northern Bosphorus in Black sea with tug at her side, status "Not Under Command".
6,500 TEU CMA CGM RABELAIS adrift, AIS off, after explosion, fire
Container ship CMA CGM RABELAIS while en route from Tanjung Pelepas to Nhava Sheva India, suffered explosion, followed by fire, in western Malacca Strait between Andaman Islands and Banda Aceh Sumatra at around 1230 UTC Apr 6. The went NUC, adrift, AIS off since the time of explosion.
Kindly like us on Facebook