French bulk carrier aground in Parana river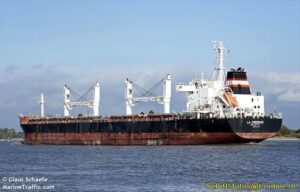 Bulk carrier LA CHESNAIS ran aground on 315 kilometer mark below Ramallo, river Parana, Argentina, in the morning Jun 21. The ship's in load, bound for Chile. As of 1400 UTC Jun 22 was still aground with 2 tugs working on her. Salvage company already contracted. Low water level is believed to be the cause of grounding.
Lebanese freighter sank in Arabian sea
General cargo ship PIONEER STAR confirmed sank some 35 nm off Oman coast in Arabian sea early Jun 20, while en route from Persian Gulf to probably, Hodeidah, Yemen. Understood majority of the crew rescued, but one or more are missing
CMA CGM feeder caught with positive tests, stuck in Hamburg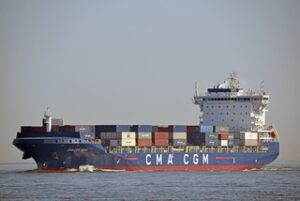 Container feeder CMA CGM NEVA was caught in Hamburg with severel crew tested positive, including Captain and Chief Officer. The ship arrived at Hamburg on Jun 15 and is berthed at Berth 5 of Eurogate Terminal. The ship is under quarantine and can't be shifted to other berth or to anchorage, awaiting either replacement crew or the end of quarantine, though understood, all 5 positive tested crew are healthy in all respects. Several port workers including pilot or pilots, were also put under preventive quarantine.
CMA CGM NEVA is deployed on feeder service connecting S-Petersburg Russia, Hamburg and Wilhelmshaven.
Cargo fire on board of general cargo ship, Kiel
Cargo of pellets on board of general cargo ship KIRSTEN B caught fire on Jun 23 at Kiel, so the ship instead of entering Kiel Canal en route from Vyborg Russia to UK, had to be berthed at Ostuferhafen, Kiel. There was no open fire, cargo was smoldering, spreading around rather unpleasant odor. Understood smoldering part of cargo was offloaded, as of 1730 UTC Jun 23 the ship remained berthed, firefighters keep monitoring cargo.
Container ship MSC MESSINA disabled, adrift after fire, Indian ocean
Container ship MSC MESSINA reportedly suffered fire in engine room in Indian ocean halfway between Sri Lanka and Malacca Strait, at around 1930 UTC Jun 24. The ship was disabled, and as of 0415 UTC Jun 25 remained disabled, adrift. She's en route from Colombo Sri Lanka to Singapore.