Cargo ship sinking in Arabian sea, 5 crew rescued, 13 missing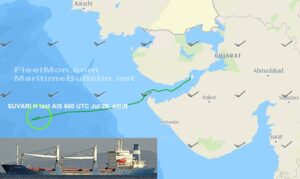 General cargo ship SUVARI H on Jul 29 reported as sinking in Arabian sea some 180 nm east of Gulf of Kutch, India. 5 crew reportedly rescued, 13 remain missing. The ship left Kandla port, Gulf of Kutch, on Jul 26, port of destination unidentified, the ship was sailing in western direction. The ship was caught in rough weather, and most probably, it is the main cause of the disaster. More details may emerge later.
Offshore support vessel heavy list, 61 rescued, 4 are missing
Offshore support vessel SHENG PING 001, engaged in offshore wind turbines installation, developed heavy list in the morning Jul 25 in South China sea E of Hong Kong, in Guangdong Province waters. There were more than 70 people on board. Understood majority are rescued, several remain missing, said to fall overboard. As of 1340 UTC Jul 25, ship's status unclear, she may be still afloat.
Tanker and general cargo ship collided in Kiel Canal
Tanker went out of control after engine failure and collided with general cargo ship in Kiel Canal near Kiel locks, at around 0120 LT Jul 27. The ships were transiting Canal in opposite directions, both reportedly, sustained damages and were detained. Tanker was berthed near collision site, general cargo ship according to track, exited Canal and was berthed in port outside locks. Ships weren't identified, but according to tracks, tanker ORASUND and general cargo ship BBC PARANA were involved. ORASUND is en route from Liepaja Latvia to Ireland, BBC PARANA is en route from China to Umea Sweden. As of 1420 UTC Jul 27, both ships remained berthed in Kiel. Reportedly, ships didn't report water ingress, nor there was any leak.
Kindly like us on Facebook