Three crew including Captain died in tanker cargo tank, Mediterranean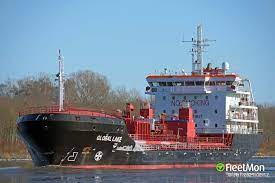 Three crew of tanker GLOBAL LAKE, including Captain, died on board in a tragic accident. Tanker was cruising around north of Algeria, understood in ballast, after she left Bejaia, Algeria, on Aug 17, probably waiting for orders. On Aug 25 she sailed to Cartagena Spain, reporting three deaths. One crew, AB most probably, was cleansing the tank, got caught in an anoxia pocket inside tank, depleted of oxygen. Captain and bosun tried to rescue him, but fell down into tank, probably going dizzy due to lack of oxygen. All three later were hoisted to cargo deck by crew. Tanker berthed at Cartagena in the morning Aug 26, investigation under way.
Tanker all-crew positive test mystery, Chile
Product tanker NAVE BELLATRIX arrived at Valparaiso anchorage, Chile, on Aug 9, from Houston A, with cargo of, reportedly, diesel. On Aug 15 tanker sailed to Quintero Chile, and anchored there. On Aug 20 tanker left Quintero anchorage, bound for Panama Canal. During the period of staying in Chile, according to local sources, all 22 crew were tested positive and taken to isolation center, understood on land, with 1 being hospitalized.
So, what happened? Houston is one of seamen vaccination international hubs, so in all probability, some or all of the crew were vaccinated during Houston stay. Tanker left Chile earlier than it usually takes for ships which were put under quarantine. If all the crew were disembarked, when the new crew replaced old one, and how did the authorities/managers run crew change operation? If tanker left Chile manned with old crew, how come they didn't go through 14-day "quarantine" detention? If crew were vaccinated in Houston, what's the use of vaccination if people are found test-positive after the jab?
Shipping needs online regularly updated, open system of registering sea labor vaccination process, including cases of negative side-effects and deaths. It's vitally important, but there's no sign such system will be implemented anytime soon, if at all.
Bulk carrier put under quarantine after suspicious death
Bulk carrier GEORGIA HARMONY arrived at Santos anchorage, Brazil, on Aug 17, from Gibraltar, with 19 crew on board. On Aug 19 ANVISA health agency found medical records showing that some crew have suspicious symptoms, and ordered crew test. On Aug 23 two crew fell seriously ill and have been taken to hospital, one of them died, another in a serious condition. Five more crew were tested positive but remained on board, being healthy. The ship is put under 14-day quarantine.
Again, we're having the case of highly suspicious death, attributed to of course, covid. Again, absolutely no data on crew vaxx status. Again, total darkness with regards to root causes of deaths wave, which hit the shipping with the start of mass crew vaccination.
GEORGIA HARMONY (Bulk carrier)
Vessel position, logs and particulars for Bulk carrier GEORGIA HARMONY at FleetMon.com, the global ship database.
Tanker with 40,000 tons of crude wanted by Cambodia, arrested in Indonesia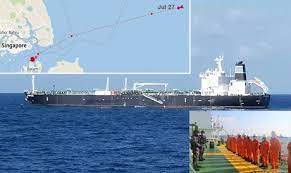 Product tanker STROVOLOS was detained by Indonesian Navy off Batam, Riau islands, Singapore Strait, on charges of carrying stolen crude oil originated from Cambodia; and illegal anchoring in Indonesia waters. Navy issued official statement on Aug 25, while tanker was seized on Jul 27, shortly after arrival. According to Indonesian sources, tanker is wanted by Cambodian Government for stealing some 40,000 tons of crude oil, respective notice having been sent to Indonesian Gov on Jul 24. Tanker AIS records history was obviously, tampered with, all records prior to Jul 27 2021 have been deleted. Tanker is manned with 19 crew, including 13 Indian, 3 Myanmar and 3 Bangladeshi nationalities. According to Navy, tanker arrived from Gulf of Siam.
Oil platform fire, 5 injured, Gulf of Mexico
Fire erupted on platform the E-KU-A2, which is part of compression platform PB-KU-A2, located at Ku Maloob Zaap (KMZ) oil field, Bay of Campeche, Mexico, in the afternoon Aug 22. Platform operator PEMEX said fire was put under control by 1630 LT, 5 workers were injured and transported to hospital. Platform was operating at the time of an accident, some reports mention an explosion prior to fire.
The compression platform PB-KU-A2 consists of an 8-leg jacket, sup-porting a 2-level process deck, an intermediate mezzanine and a sub-level. It is designed to receive the equipment necessary for processing the mixture of 13º API Oil coming from the PB-ZAAP-C Production Platform. The compression platform is connected via bridge to the E-KU-A2 Platform. It is linked to a flare via two bridges and an intermediate tripod.
Bulk carrier with medical emergency interrupted voyage, Filipino seaman died
Bulk carrier SEA BRAVE interrupted her voyage from Varna Bulgaria to Haifa Israel, and anchored at Chios port anchorage, Chios island, Greece, Aegean Sea, early Aug 25, because of medical emergency. 42-year old Filipino seaman was in need of immediate hospitalization, already senseless. He was taken to hospital and died shortly after. No information on the cause of his death, whether it was inj
Kindly like us on Facebook