Chinese Captain of container ship killed by Vietnamese crew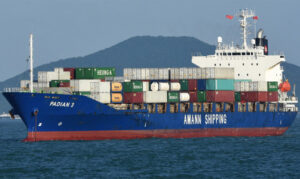 Vietnamese 24-old seaman, crew member of container ship, killed Captain of the ship in the evening Dec 8, in Korean waters, while the ship was under way from Vietnam to Korean port of Pyeongtaek. Seaman reportedly, drank several shots of whiskey in his cabin, went to bridge and stabbed Captain, 44-year old Chinese nationality, several times. The ship arrived at Pyeongtaek early in the morning Dec 9, seaman was immediately arrested, investigation under way. According to his preliminary testimony, he killed Captain, because «Captain made his life unbearable" – which may well be the case, especially in times of "pandemic", when it's very difficult to sign off the ship. 19 crew includes 17 Vietnamese and 2 Chinese nationalities.
Ship's ID wasn't disclosed, but all available data point at container ship PADIAN 3, which left Hai Phong on Dec 3, destination Pyeongtaek.
Offshore supply ship sank in Bangladeshi waters
Offshore supply ship EXPRESS 54 reportedly sank in the morning Dec 6 in Bangladesh waters SW of Chittagong, in Payra Port area, due to water ingress. Understood the ship struck bottom or underwater object. EXPRESS 54 was deployed in supporting dredging works, carried out as part of Payra deepwater Port Project. 12 crew were rescued and transferred to Payra. I
Captain and Crew Found Drunk After Russian Cargo Ship Almost Grounds in Poland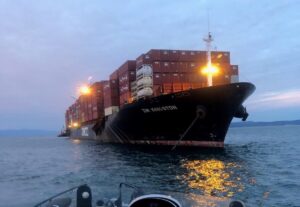 A Russian cargo ship has been detained in Poland after coming dangerously close to grounding and authorities found the captain and three of its crew members drunk.
According to Poland's Maritime Office, the incident took place overnight Friday (December 3 to 4) when the Russian-flagged ship, identified as the Ruslana, left the designated shipping lanes in Gdansk Bay and did not respond to calls.
The movement of the vessel was being tracked by the Vessel Traffic Service (VTS) in Zatoka which alerted the Maritime Department of Border Guard that the ship was in danger of grounding.
A team from the Maritime Search and Rescue Service was sent to the scene, eventually establishing contact with the vessel "after some time."
The 2007-built Ruslana a Russian-flagged bulk carrier measuring 120-meters-long and 7,750 deadweight tonnes.
General cargo ship damaged after contacting pier, Sassnitz
Cyprus-flagged cargo ship contacted pier at Sassnitz, Ruegen island, Germany, on Dec 6 or Dec 5, while proceeding to berth. The ship suffered crack in the hull and other damages, pier constractions were also damaged. Ship's name wasn't disclose, later it has become known, that the ship's name is BREB XIAN.
According to local media reports, accident took place in the morning Dec 6, but probably it happened earlier, on Dec 5, when the ship arrived at Sassnitz, and left harbor after some maneuvering, moving instead, to Sassnitz anchorage. She entered port and berthed in the morning Dec 6.
Kindly like us on Facebook