25.10.2021: 0855 UTC: Posn: 02:13N – 004:50E, Around 149NM SW of Brass, Nigeria.
While underway, a container ship was boarded by an unknown number of pirates and the crew retreated into the citadel. On being notified of the incident the IMB Piracy Reporting Centre immediately alerted and liaised with the Regional Authorities and international warships to request for assistance. A Russian Navy warship and its helicopter responded and proceeded to render assistance resulting in the crew and ship being safe. The pirates escaped with stolen ship's properties.
Dutch tanker aground off Isle of Wight, UK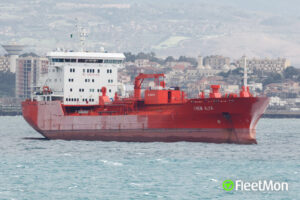 Product tanker CHEM ALYA ran aground off westernmost tip of Isle of Wight, UK, English Channel, at around 1500 UTC Oct 25, shortly after leaving Fawley. Apparently, tanker veered off fairway. No damages reported, so far. Tanker is bound for Alexandria Egypt.
Capesize bulk carrier and cargo ship collided in Marmara sea, both heavily damaged
Capesize bulk carrier BENITAMOU and general cargo ship BC VANESSA collided in Marmara sea halfway between Sarkoy, Tekirdag, and Gelibolu, Canakkale, at 0310 UTC Oct 24, both ships proceeding to Dardanelles, in full load, in dense fog. BC VANESSA struck BENITAMOU portside in midshipsection area, inflicting heavy damages to both ships. BENITAMOU hull suffered a huge breach, with ensuing water ingress. BC VANESSA bow and forecastle are heavily damaged. BC VANESSA moved to Sevketiye anchorage and was anchored, understood she's in no immediate danger. Situation with BENITAMOU is probably, much more serious – the ship is either dead in the water or anchored south of collision site, with at least two tugs and salvage vessel around. BENITAMOU with cargo of iron ore was en route from Yuzhny Ukraine to China, BC VANESSA was en route from Varna Bulgaria to Tunis, cargo unknown.
4 hospitalized in Indian Navy destroyer fire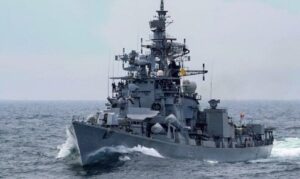 Indian Navy destroyer INS RANVIJAY suffered fire on board at night Oct 23 at Visakhapatnam Naval Base, eastern India, Bay of Bengal. Flooding was also reported, fire understood to be either extinguished or put under control, as of morning Oct 24. Four crew suffered burns and were hospitalized. Situation, status of destroyer, yet unclear.
Indian Navy Rajput-class destroyer INS RANVIJAY, displacement 4974, built 1988 (Soviet shipyard), armament missiles, guns, anti-submarine mortars/torpedoes, helicopter.
Four Injured, One Missing in Fire on Indonesian Container Ship
Last Wednesday, the Indonesian container feeder Sinar Ambon caught fire near Banjarmasin, at the mouth of Borneo's Barito River.
The blaze began at about 1215 hours, and a response tug managed to extinguish it by 1430. Four out of 18 crewmembers suffered burn injuries in the fire, and they were evacuated to a nearby hospital in Banjarmasin. Three were still in treatment Thursday, according to Tribun Banjarmasin.
Local media identified the burn victims as crewmembers Irwan, Francicus Feby Etdolo, Lukman Ahmadi, and Zelfa Chaniago.
One crewmember jumped over the side to escape the blaze and has not been found. Search and rescue assets continue to look for the missing seafarer, identified as M. Bajra Arransyah.
The Sinar Ambon was transferred to the Banjarmasin Container Terminal (TPKB) for further investigation and repairs. Based on an initial examination, the investigators suspect that a short circuit in a power cable in the engine room was responsible for the fire.
The Sinar Ambon is a 2006 container feeder with a capacity of about 300 TEU. Her last PSC inspection was recorded in 2011, indicating that she has served in domestic trade for an extended period. She is owned and managed by a Singapore-headquartered container feeder operator.
Kindly like us on Facebook