Container ship interrupted voyage from US after 1 crew died from respiratory issue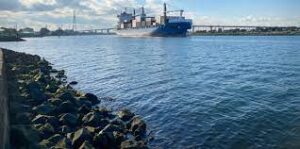 Container ship NORTHERN DEMOCRAT interrupted her voyage from Los Angeles to Peru and had to call Posorja, Ecuador, where she anchored on Jun 9, and is to remain anchored under quarantine. The ship requested medical assistance after one of crew died with from respiratory complications, "probably related to covid". All the crew were tested and now await test results, no reports on any other crew getting sick or hospitalized (yet).
1 bulk carrier crew died, 2 in hospital: why?
Bulk carrier ALIS arrived at Algeciras on May 25 and remains anchored since the arrival, being under quarantine. Ship was/is en route from Chennai India to Europa Point Gibraltar, via Suez. According to Spanish source, one crew died of cardiorespiratory attack and taken to Motril port, Spain, two more were taken to hospital in Malaga, all 3 positive tested. Five more crew are also tested positive but being healthy in all respects, remain on board.
Here's the mystery of it: Prior to death and illnesses, bulk carrier made a short stop at Kaloi Limenes anchorage, Crete, on May 17. Bulk carrier is operated by Greek company. Did she stop for crew change, for vaccination or for supplies?
Korean Captain with lethargy and paralysis medevaced, India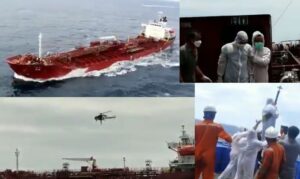 Product tanker ELIM interrupted her voyage early in the morning Jun 6, and sailed to Goa, India, requesting immediate medical assistance. Ship's 50-year old Korean Captain was suffering from severe lethargy, left hand paralysis and low blood pressure. He was medevaced by Indian CG helicopter and transferred to Vasco hospital, Goa, condition reportedly, stable. Tanker meanwhile, reached Mormugao, Goa, in the afternoon Jun 6, and looks like she was anchored. As of 0430 UTC Jun 7, she remained in the same position. Tanker is en route from Deendayal India to Singapore.
To disembark Captain who died 2 months ago, ship's returning to Europe
Italy-flagged container ship ITAL LIBERA left Jakarta Anchorage on May 27, after being stuck there since Apr 19, and is sailing back to Europe, namely to Italy, to disembark Captain's body. He allegedly, died from Covid, 5 more crew were found test positive. Indonesian authorities, notwithstanding 1,5 month anchorage isolation, refused to accept Captain's body, along with other SEA nations, so operator of the ship, Hapag-Lloyd, had no other choice except to re-direct the ship back to Europe, and declare a Force Majeure.