Capesize bulker Captain lost overboard, survived 3 days in sea clinging to wood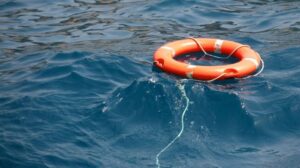 Turkish Captain of capsize bulk carrier QUORN has been lost overboard on May 2 in Java sea north of Bali island. The ship is en route from Australia to Vietnam, she interrupted voyage and went SAR, alerting all the concerned authorities, including Malaysian and Turkish authorities. The ship resumed voyage on May, Captain wasn't found. Miraculously, he was found and rescued by local fishermen on May 5, and immediately transported to hospital. He's in stable condition, suffering mostly, from sunburns. According to reports, he survived by clinging to a piece of wood.
QUORN meanwhile, stopped on May 5 northwest of Belitung island, Indonesia, most probably awaiting instructions – either to call Indonesia port to pick up Captain, or to continue voyage with Captain boarding the ship someplace else.
Comment: Captain according to reports, said he didn't recall his fall, so details of the accident are a bit of a mystery – people don't fall overboard losing all the memories of the fall and circumstances. Version of some kind of conflict among crew can't be excluded, but most probably, we won't ever find out the full story, unless tipped off by crew members.
Dutch freighter contacted bollards in Kiel Canal
General cargo ship PEAK BREMEN strayed off course in the morning May 2 while transiting Kiel Canal in northern direction, en route from UK to Sweden, in Schulp area, below Rendsburg. The rested on bollards along embankment, went off about half an hour later, and resumed transit. No serious damages reported. As of 0000 UTC May
Bulk carrier to be taken on tow after 2-week drift, North Atlantic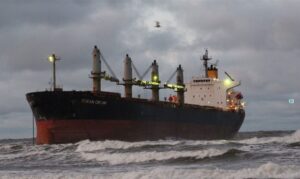 Apr 18: Bulk MAGIC SEAS (IMO 9736169), North Atlantic, from Corpus Christi to Europa Point, ETA Apr 16. May 2: AHS tug ALP WINGER (IMO 9367504) assigned for towage?
May 3 UPDATE: ALP WINGER is nearby both ships adrift. Maybe tug brought spare parts and technicians. Keep watching.
May 3 1340 UTC UPDATE: Reports emerged, that MAGIC SEAS lost either rudder, or propeller, so understood, tug ALP WINGER is to tow disabled ship, not to assist in repairs. As of 1340 UTC, towage doesn't yet commence, according to tug track. MAGIC SEAS can't be tracked, AIS is missing during last 12 hours.
Cargo ship struck silo while leaving Hamburg, both silo and ship damaged
Cargo ship contacted silo constructions at Rethe, Port of Hamburg, in the evening May 2, while leaving dock, bound for Sweden. Both silo and the ship sustained damages, RIX CRYSTAL also allided with dolphin. On May 3 the ship was taken to Kuhwerder Hafen, Hamburg, and as of May 4 remained in Hamburg. Reportedly ship control mistake caused accident – instead of moving backwards, the ship moved forward, and struck silo.
The ship wasn't identified in local news, but according to available info, it's a Latvian general cargo ship RIX CRYSTAL.and [the Chinese] will be relaxed about it, I don't know."
Kindly like us on Facebook