Deck Barge Catches Fire in Delaware River
On Monday morning, the U.S. Coast Guard's 5th District reported that it is working with local fire agencies to respond to a barge fire off Bombay Hook Point, Delaware.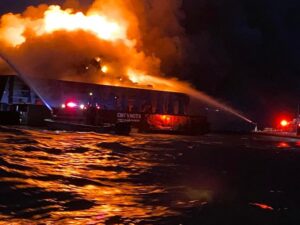 Watchstanders at the Sector Delaware Bay Command Center received a call at about 0115 hours reporting an unmanned barge on fire in the Delaware River. The 300-foot barge, identifiable from photos as the deck barge CMT Y NOT 6, was carrying discarded household appliances and other metal scrap.
One Coast Guard patrol boat and six fire boats from local fire agencies attended the scene to fight the blaze. No injuries were reported, and there are no signs of pollution, according to the Coast Guard. Photos from the scene appeared to show that the scrap metal pile contined to burn after daybreak, and firefighting efforts continued.
"Our highest priority is ensuring the safety of firefighters and response personnel on scene," said Capt. Jonathan Theel, Sector Delaware Bay Captain of the Port. "We will also work to mitigate any environmental threats and protect the flow of commerce within this vital port."
Seven Dead as Ferry Catches Fire in the Philippines
A ferry carrying 134 people caught fire Monday morning in the Philippines, prompting a large search and rescue operation. In the last report, the Philippine Coast Guard is reporting that seven people died with 120 rescued, including 26 injured, and four remain missing with the SAR operation ongoing.
The MV Mercraft 2, a modern fast ferry had departed from Polillo Island in the northeast Philippines in the early morning hours for the crossing of the Polillo Strait and Lamon Bay bound for Real, in the Quezon province. Official reports are saying that there were 126 passengers and eight crew members on board. The vessel had a maximum capacity of 186 people.
The vessel was arriving in the Port of Real when the fire broke out and quickly spread to the length of the ferry. Images of the fire show the vessel fully engulfed for the full length of the ferry. Passengers were forced to jump into the water and multiple images show passengers being rescued from the harbor in their lifejackets.
Offshore support vessel looted by armed pirates in the Gulf of Mexico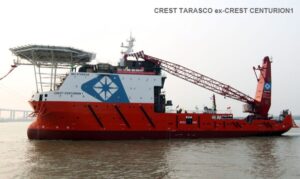 Offshore support vessel CREST TARASCO was boarded by 5 armed with rifles pirates at around midnight May 22 off Tabasco coast, Mexico, Gulf of Mexico. Pirates fired several shots, crew and staff mustered in shelters inside the ship, to avoid kidnapping, pirates looted the ship for some 45 minutes, and fled on their small boat after they took what they have been after – 35 autonomous breath devices, plus communications and other valuable equipment. Nobody was injured.
Captain of bulk carrier arrested for cocaine smuggling, Australia
Captain of bulk carrier INTERLINK VERACITY has been charged with attempted smuggling of some 320 kilo of cocaine into Australia, reports ABC News. Australian Police held a press-conference, revealing the details of Captaine detention. 51-year old Captain of Montenegro nationality allegedly, threw packages with cocaine overboard on May 14 off Port Hedland, Western Australia, when the ship was anchored at Hedland Anchorage. Packages were collected by two men riding a small boat, both have been already detained. Police say a forensic examination of the ship captain's mobile revealed messages relating to the drug smuggling attempt.
The ship arrived at Port Hedland anchorage on May 8, was berthed on May 23. She arrived from Dalian, China.
Container barge heavy list, 12 containers lost, Singapore Strait
Container barge on tow of tug MEGA DAYA 43 suffered containers shift in Singapore Strait off Karimun, Riau Archipelago, Indonesia, early in the morning, and developed heavy list. Some 12 containers were lost overboard. SAR team was deployed, barge reportedly, was stabilized. Barge was to be towed to Singapore.
Kindly like us on Facebook