Tragic death of 21-year old Ukrainian sailor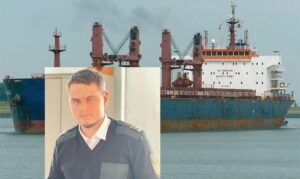 Ukrainian industry news outlet Seafarer News reported tragic death of a 21-year old Ukrainian seaman on board of Greek bulk carrier MELPOMENI, on Aug 18. According to the story, young seaman was working all day through under scorching sun, moving heavy weights like tools and supplies. He felt sick, and informed Captain and CO, asking them to allow him to move from direct sunlight into shadows, but his plea was ignored. Next day he had to work with weights again, until finally, collapsed unconscious. He died, from heart attack or from stroke. Relatives blame ship's officers for this tragic death, accusing them of negligence and lack of first-aid skills. MELPOMENI is presently docked at Ras Al Khair, Saudi Arabia. On Aug 17 she was anchored off Fujairah, left anchorage same day and sailed to Persian Gulf.
Understood young man was a cadet, probably undergoing his sea practice as a deck hand.
Russian Tanker Arrested, Singapore Outer Anchorage
Russian tanker PRIMORYE was arrested by the Malaysian Maritime Enforcement Agency (MMEA) on Aug 21 24nm off the coast of Tanjung Sedili, Kota Tinggi District, Johor, Malaysia, Singapore and Singapore Strait outer Anchorage, South China sea. It's so to say, routine arrest and routine accusation – the ship anchored without obtaining official permission, though nobody so far, explained the necessity of coastal State permission to anchor outside its' territorial waters. Tanker will be released, judging from countless other arrests of this type, after paying a "fine". Tanker anchored off Singapore on Aug 19, having a status of "Waiting for Orders".
Brazilian Navy frigate lost control, struck embankment, Santos VIDEO
In the evening Aug 21 Brazilian Navy Frigate DEFENSORA suffered steering failure while passing Santos Port Channel, Brazil. According to witnesses and videos they took, frigate drifted and contacted embankment. Navy Command refused grounding, insisting on their version – the ship suffered momentary loss of control, but was secured by dropping anchor, and soon was under way again, completing passage and continuing her voyage to Rio de Janeiro. No information on possible damages, understood traffic in channel was temporarily suspended.
Frigate (F-41) DEFENSORA, Brazilian Navy, displacement 3800, commissioned 1977, crew 209, armament missiles, guns, torpedoes, helicopter.
Croatian bulk carrier damaged in collision, Port Arthur, USA
Bulk carrier AP REVELIN collided with unidentified cargo ship in Port Arthur waters, USA, Gulf of Mexico, understood on Aug 21, while leaving the port, bound for Immingham. Croatian news outlet SeeNews said bulk carrier suffered serious damages, citing Atlantska Plovidba statement issued on Aug 22. AP REVELIN left port and was anchored at outer anchorage in the afternoon Aug 21, to undergo inspection and estimate damages.
Russian tanker collided with boat in Dardanelles
Russian river-sea product tanker KARAKUZ collided with small boat in Dardanelles off Burhanli at around 1800 UTC Aug 25, while transiting the Strait in southern direction, en route from Novorossiysk to Perama, Greece. 2 people in boat weren't injured, boat sustained some damages. Tanker moved further south and was anchored at Kumkale anchorage, southern Dardanelles. Remained at anchor as of 0330 UTC Aug 26
Kindly like us on Facebook/twitter