Skipper and pilot died in pilot boat collision, Kobe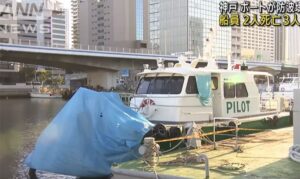 Pilot boat with 5 people on board collided with breakwater at Kobe Port, Japan, at around 0300 Tokyo time Sep 4. 52-year old skipper of the boat, and 71-year old pilot, died in the collision, 3 crew were seriously injured.
Container ship fire, Taiwan Strait
Fire erupted in engine room of container ship ZHONGZHOUCHANGHONG in the evening Sep 4 in northern Taiwan Strait, NE of Xiamen. The ship was en route from Qinzhou to Rizhao Yellow sea. 19 crew were evacuated, all are safe. SAR ships started firefighting, container ship is to be taken on tow, understood situation is under control as of morning Sep 6. Ship's AIS is on.
Turkish cargo ships collided at Greek Port
General cargo ship collided with general cargo ship GERDA S in the morning Sep 7 at Amfilochia port, Ambracian Gulf, northwest Greece. Both ships reportedly, sustained damages, in bow section and in stb area, no other information available. No leak occurred, both ships remain at port.
Tanker with 1,000 tons of oil sank in Gulf of Tonkin, Vietnam
Tanker HA AN 01 with some 1,000 tons of fuel on board sank at anchorage off Diem Dien port channel, Thai Binh province, at night Sep 8, being caught in adverse weather. 7 crew rescued, no reports on oil leak yet, but authorities already deployed Oil Response Agency to deal with possible leak and oil on board. Understood tanker is resting on bottom, with superstructure remaining partially above waterline.
Romanian Navy Minesweeper damaged by rogue mine, taken on tow, Black sea
Romanian Navy Minesweeper F-29 LT. DIMITRIE NICOLESCU on Sep 8 contacted floating rogue mine some 20 nm NE of Constanta, Romania, Black sea, and suffered mine explosion hit in aft area, resulting in a small-sized hull breach. Minesweeper was sent by Naval Command to check the report on spotting floating mine, and to disable it. Minesweeper spotted mine but couldn't send a boat with divers and technicians to mine, because of worsening weather. The ship contacted mine while maneuvering, all 75 personnel on board were safe, but minesweeper was disabled. Navy ship ROS NMSIS GROZAVUL was sent to tow minesweeper to Constanta, as of 0630 UTC caravan was proceeding towards Constanta, minesweeper AIS is on.
Kindly like us on Facebook/twitter