Japanese cargo ship sunk fishing vessel in collision, 7 crew rescued
General cargo ship BUNGO PRINCESS collided with fishing vessel north of Keelung, Taiwan, shortly after 1500 LT Nov 12. Fishing vessel was cut in two, literally, and sank. 7 fishermen on board were rescued. BUNGO PRINCESS left keeling bound for Kaohsiung, but after collision she returned to Keelung for investigation. Collision occurred in dense fog, so fishing vessel is mainly, guilty for collision.
Freighter grounding in Kiel Canal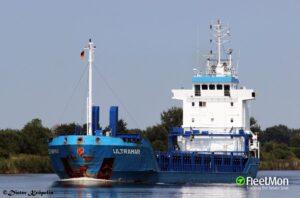 General cargo ship ODIN suffered engine failure and stuck into Kiel Canal embankment near Rader Hochbrucke Bridge, at around 0900 LT Nov 16, while transiting Canal in southern direction. She was freed at around 1340 LT and brought to Rendsburg, where she was berthed. As of 2000 LT remained berthed. She's en route from Sweden to UK.
Tanker hit by drone in Arabian sea
Product tanker PACIFIC ZIRCON in load was hit by a bomb carried by drone in Arabian sea at night Nov 15, reportedly some 150 nm off Oman coast. Tanker is en route from Oman to Buenos Aires Argentina. Last ship's AIS pos is at 2000 UTC Nov 15, tanker under way, and there's a curve in her track, supposedly after she was hit. Crew are safe, tanker according to owner, suffered minor hull damage and continues her voyage.
5 Russian crew including Master arrested for allegedly, transporting 28 tons of drug, Egypt
Five crew of general cargo ship SOYA, including Master and Chief Officer, all 5 of Russian nationality, were arrested in Alexandria Egypt, after police found 28 tons of synthetic analgesic material in a sealed container. This material is considered as drug in Egypt, but as essential substance for producing cancer pain-killer in Russia. The ship arrived from Istanbul Turkey on Nov 4, and remained in port as of evening Nov 14. Crew can't be responsible for the cargoes in sealed containers.
Bulk carrier grounds at Princes' islands
Bulk carrier CHARLES ran aground on Balikci Adasi island, southern island of Princes' islands, Marmara sea, south of Istanbul, at around 2330 LT Nov 18. Was refloated with tugs assistance at 0340 LT Nov 19, and taken to nearby anchorage, where she was brought to anchor. Was in the same position as of 0750 LT with tug and rescue boat at her side, she's probably damaged. Bulk carrier arrived at anchorage in Marmara sea off Istanbul on Nov 9 from Sudan. Details of accident unknown.
Kindly like us on Facebook/twitter