Tragic death during crew change not caused by COVID, but by fighting COVID
A sign-off crew member of Capesize bulk carrier FORMOSABULK CLEMENT tragically died earlier last week while disembarking from the ship into boat, to be taken ashore. Initial reports indicate he fell from pilot ladder and was caught between the hulls of boat and bulk carrier. It was so to say, avoidable tragedy, it was triggered by inhuman crew change policy practiced by Australian authorities. Crew changes have to be carried out offshore, not in ports. "Biomedical safety measures" implemented by Australian governments, both on State and Federal levels, render safe crew changes in ports impossible. The ship had to turn to Queensland coast to perform crew change, in Mooloolaba area, being en route to Brisbane. As of Aug 11, she's reported to be detained by AMSA "for investigation", as if this investigation brings in any positive result. It won't change governmental practices, or is it?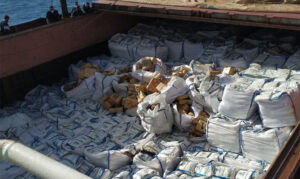 Freighter Carrying 20 Tons Of Hashish Intercepted, All Crew Arrested
General cargo ship NATALIA was intercepted by Spanish joint forces of police and customs some 40 nm south of Feurteventura island, Canaries, on Aug 8, on suspicion of narcotics trafficking. The ship, en route from Lebanon via Iskenderun Turkey to Lagos Nigeria, was found by enforcement team to be in a state of emergency, suffering from water ingress and machinery breakdowns. NATALIA was taken to Las Palmas and docked there, it took quite some time and efforts to secure her safety. She was thoroughly searched, 638 bales containing nearky 20 tons of hashish were found hidden in cargo hold or holds, among bags with legal cargo. 11 all-Syrian crew were arrested. Investigation is ongoing, ship under arrest.
Wood Chips Carrier Broke In Two At Anchorage, Honshu
CRIMSON POLARIS broke in two, stern was adrift as of 0700 Tokyo time Aug 12, the main section with cargo holds remains anchored.
Wood chips carrier CRIMSON POLARIS loaded with 44,000 tons of wood chips had asked for assistance at around 1130 Tokyo time Aug 11, Hachinohe port, northeast Honshu. Understood the ship drifted aground off Hachinohe breakwater after anchor dragged, in rough weather. The ship suffered hull crack or cracks, followed by water ingress. According to ship's track, she was refloated, moved further offshore and anchored. According to Japanese sources, ship's 21 crew were evacuated by helicopter, though visibly, there's no imminent, or probably any, danger to Chinese-Filipino mixed crew. As of 2350 Tokyo time Aug 11, the ship remained anchored, with JCG ship nearby. CRIMSON POLARIS arrived at Hachinohe anchorage from Sri Racha Thailand, on Aug 10.
General cargo ship disabled by fire in Skagerrak
General cargo ship HAGLAND BORG reported fire in engine room at 0030 UTC Aug 13 off Grimstad, southern Norway, Skagerrak. Crew sealed engine room and activated firefighting system, emergency team from Larvik confirmed at 0318 UTC, that the fire was extinguished. The ship was disabled by fire, and as of 0410 UTC understood to be already on tow or in process of getting towed, ship's AIS off during last 4 hours. The ship was en route from Fredrikstad to Trondheim, she's to be towed to Eydehavn.
Kindly like us on Facebook