VLCC tanker Chief Officer and Bosun killed by wave in Drake Passage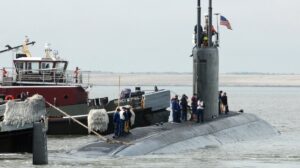 Crude oil tanker ARAFURA encountered heavy seas in Drake Passage on Sep 10-12, while en route from Porto do Acu Brazil to Long Beach USA. Two crew members were injured while performing their job, tanker contacted MRCC Punta Arenas and reported medical emergency requiring medevac. Rendezvous was appointed, tanker met Chilean Navy ships PSG 78 SIBBALD and OPV 83 MARINERO FUENTEALBA on Sep 12, injured seamen were medevaced. Tanker resumed her voyage and as of 0900 UTC Sep 14, she was sailing in the Pacific along Chilean coast, still in bad weather.
According to Indian sources, Chief Officer and Bosun were injured and died from injuries, they've been checking compartments in forecastle area, and were hit by wave in the process. Both were of Indian nationality.
Thai Captain of bulk carrier arrested for concealing crew sickness
A 53-year old Thai Captain of THORESEN's bulk carrier THOR MONADIC was arrested by the Hong Kong police on Sep 14, and appeared at court on Sep 15, outcome yet unknown. He's charged with fraudulent concealment of his crew health status, namely the covid-like symptoms of fever, coughing, and breathing difficulties among several crew members. The ship arrived at Ningbo-Zhoushan anchorage around middle Aug from Indonesia, left anchorage on Aug 20 and sailed to Hong Kong, details unclear. She arrived at HK anchorage on Aug 24 and asked for clean bill of health, but HK Department of Health was already alerted by snitches on probable crew sickness outbreak, sources of snitching unknown. All 23 crew were tested, 15 were tested positive, including Captain. They've been taken to hospital and later all but one released and returned on board – understood because they were and are just that – healthy people. The ship is remaining at anchorage under quarantine.
The ship initially, arrived at Indonesia (Banjarmasin area anchorage) from Mundra India.
Cargo ships collided at Vung Tau anchorage, one sank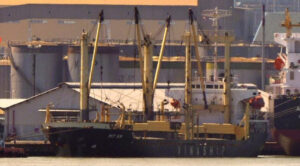 General cargo ship LISA AUERBACH collided with anchored general cargo ship MY AN 1 early in the morning Sep 14 on Vung Tau anchorage, southern Vietnam. MY AN 1, loaded with some 10,000 tons of clinker, sank, 17 crew were rescued by LISA AUERBACH, they're safe. LISA AUERBACH was anchored after collision, and as of evening Sep 14, remained at anchor. MY AN 1 upper bridge remained above waterline, there are some 40 tons of fuel on board, no leak so far. LISA AUERBACH arrived from Laem Chabang, Thailand.
Container ship collided with coal barge, damaged, Indonesia
Container ship TANTO MITRA collided with coal barge at Banjarmasin outer anchorage, southern Kalimantan, Java sea, in the morning Sep 13 on arrival from Jakarta. Understood collision occurred while the ship was maneuvering to anchor. TANTO MITRA sustained heavy damages in bow area, including 1×5 meters hull breach and dents. As of 0030 UTC Sep 14, the ship heaved anchor and started moving towards Banjarmasin, escorted by tug. tion not yet confirmed.
Tanker and tug grounded by storm, Maldives
Maldivian tanker TRANSFUEL 9 and tug TB MARINA 1301 (IMO 8673803) were grounded by storm in the morning Sep 15 in Maldives, reported local news outlet avas.mv. Tug was soon refloated by another tug, and anchored. Tanker is understood to be still aground on VilliMale's reef, extent of damages unknown, no leak reported so far. Both ships were anchored, anchors dragged, and ships drifted aground. No TRANSFUEL 9 AIS track available.
Product tanker TRANSFUEL 9, IMO 7713917, dwt 1117, built 1977, flag Maldives.
Kindly like us on Facebook