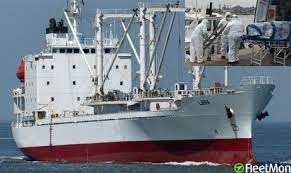 One crew dead, five hospitalized, including Russians and Lithuanians
Lithuanian reefer LIBRA arrived at Montevideo anchorage, Uruguay, on Aug 28, interrupting her voyage from Lagos Nigeria to Stanley Falklands, after encountering medical emergency. Six crew were transferred to hospital, one of them having been already dead, five being sick. Dead seaman and 2 among hospitalized showed positive rapid tests. 3 of those hospitalized have "serious condition". Dead seaman is of Lithuanian nationality, among five hospitalized 3 are Russians and 2 Lithuanians. Vaccination status of LIBRA crew is unknown.
EVER container ship accident in Rio de la Plata, Uruguay
Container ship EVER LIFTING contacted Uruguay MRCC in the afternoon Aug 29 and reported man overboard, some 12 nm south of Pirapolis Uruguay, east of Montevideo. SAR was launched with deployment of helicopter, boats from nearby ports including Navy minesweeper, and EVER LIFTING. Understood lost crew wasn't found, but as of morning Aug 30, search was still under way. EVER LIFTING berthed at Montevideo, her scheduled port of call, late Aug 29, she arrived from Itajai Brazil.
Bulk carrier didn't reach port of destination, quarantined
Three crew from bulk carrier ND MARITSA were reportedly, disembarked on Aug 29, all three with flu-like symptoms, one of them taken to hospital. Not clear where other two were taken – quarantine center, hotel, something else? Understood all three were tested positive, plus eight more who remained on board. The ship arrived at anchorage between Montevideo and Maldonado on Aug 20 from Brazil, interrupting her voyage from Brazil to San Lorenzo Argentina, details unknown, probably on "medical emergency" grounds. On Aug 28 she moved closer to Montevideo and anchored at Montevideo outer anchorage. Understood the ship was to load cargo in Brazil and in Argentina, she arrived from China.
Brand new patrol ship of Portugal Coast Guard ran aground
Brand new patrol ship of Portugal Coast Guard (GNR) BOJADOR ran aground at Carcavelos beach, Portugal, Lisbon area, in the afternoon Sep 1, cause of grounding yet unknown. The ship is undergoing survey prior to refloating attempts, which are to take place with high tide.
BOJADOR was christened in May this year, she has become the biggest patrol ship of GNR fleet, costing some 8.5 mil euro.
Bulk carrier disabled in Suez Canal
Bulk carrier JOHNNY CASH suffered engine failure in the morning Sep 1 at 151.5 kilometer mark, Suez Canal, while proceeding in northbound convoy. She was towed back to Suez anchorage and anchored same day. as of 1620 UTC Sep 2, she remained in the same position. The ship is en route from Saudi Arabia to Constanta Romania.
Kindly like us on Facebook