Ferry fire, 86 people evacuated, Indonesia
Passenger ro-ro ferry GUNSA 8 caught fire in the afternoon Jul 12 in Bangka Strait waters, between southeast Sumatra and Bagka island, while en route from Bangka to Tanjugn Api-Api, Sumatra. Fire reportedly, started in engine room. All 86 persons on board were safely evacuated and transferred to nearest port. Ship's status unclear, probably burning. Her AIS is off for more than a year.
Mega container ship collided with bulker, both damaged, Malacca Strait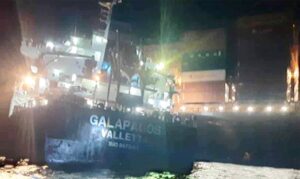 Mega container ship ZEPHYR LUMOS collided with Panamax bulk carrier GALAPAGOS at 2050 LT (UTC +8) Jul 10 in Malacca Strait off Melaka, Malaysia, halfway between Singapore and Port Dickson. Both ships were proceeding in western direction. Why did they collide, is yet unclear. ZEPHYR LUMOS struck GALAPAGOS in starboard cargo deck area, obviously inflicting heavy damages. Ships parted after collision and both were anchored, GALAPAGOS near or at collision site, ZEPHYR LUMOS to the north of collision site. As of 0500 UTC Jul 11, both ships remained anchored, both ships AIS on.
Container ship ZEPHYR LUMOS is brand new, received from shipyard in Jan 2021. she's en route from Singapore to Suez. Bulk carrier GALAPAGOS is en route from Singapore to Visakhapatnam India.
Cargo ship damaged bridge pier, Guangzhou
Cargo ship XINGU 333 collided with piers basement of Panyu Beidou Bridge, Shawan Waterway, Guangzhou, Guangdong Province, China, at 0605 Beijing time Jul 13. Bridge traffic was temporarily suspended after cracks were found in pier basement. XINGU 333 is loaded with general merchandise, no information on her damages yet.
Kindly like us on Facebook